Puerto Galera, it's all sand, sun, skin and the sling – Mindoro Sling that is. It was a PG in PG last Holy Week. Yes, a Patay Gutom in Puerto Galera got thirsty and what else would you drink in this top Philippine beach destination? The infamous Mindoro Sling of course.


Pour in the fun and be merry. Who cares if it's just 2 o'clock in the afternoon and you're already drunk? You're in vacation anyway, right? So get a pitcher of Mindoro Sling and let the alcohol flow.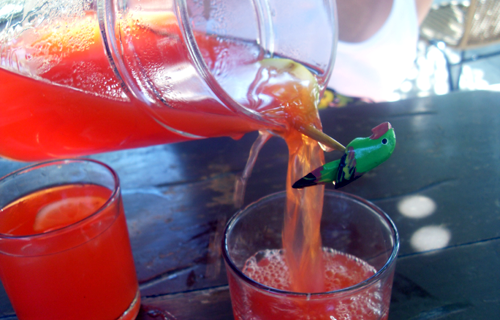 A pitcher of Mindoro Sling costs around P300 last Holy Week. It's probably cheaper during off peak season. But if you and your buddies are feeling lazy to go to Puerto Galera, it's really easy to make this concoction at home.
Here's one of the many Mindoro Sling recipes out there (parrot head stirrer not included). Just mix all the ingredients in a pitcher and enjoy.
1 lapad of Tanduay rhum
1 can of Gina's Mango Nectar juice
1-1/2 jigger of Sunny Orange syrup
1-1/2 jigger calamansi concentrate
1 jigger Grenadine
1 can Sprite
fresh apple and orange slices
lots of ice
If you're feeling lazy to shop for all the ingredients, then just mix 1 lapad of Tanduay Rhum with a liter of Del Monte Four Seasons juice. You can also use the Fit N' Right four seasons flavor so you'll burn fats while getting drunk. Multi-tasking FTW!
In no time, I'm sure you'll be saying the business name of this bar to your friends.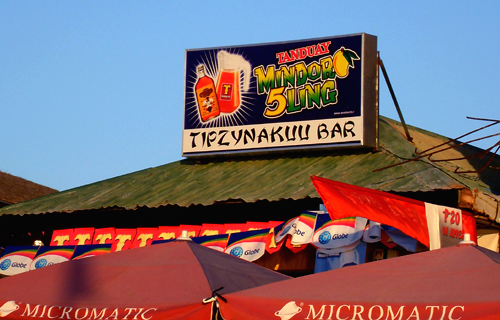 And that my friends is the Mindoro Sling of Puerto Galera. Remember to drink moderately!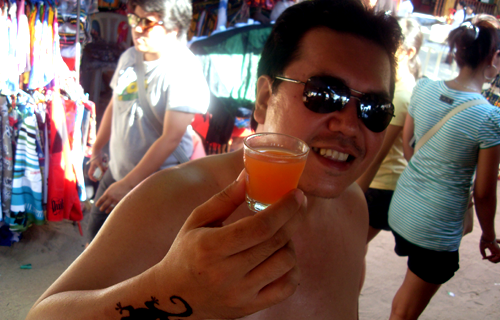 Cheers!