It's summer. It's hot. And we all know that during summer, we often feel drowsy and lethargic from environmental issues such as heat or sun. But there is a way to cool down and that is to tackle it with the right type of food.
Yesterday, we had the privilege to sample Bizu's latest summer creations.
For summer, Bizu has come up with unique and enticing Summer Sorbets. These frozen desserts made from unique blends of pureed summer fruits give us 5 reasons to refresh. Bizu's Summer Sorbet are available in five cool combinations:
Raspberry and Merlot
– Classic Combination of Merlot Wine and Fresh Raspberries
Lemon and Ginger
– Infused Lemon and Ginger. A hint of East meets West
Green Apple and Mint
– Refreshing Green Apples with combination of Mint
Passion Fruit and Mango
– Unique scents of Floral Jasmine and Passion fruit
Lychee and Vanilla
– A sweet combination that flows
All these flavors come in one set only for Php285.
Also being known for yummy cakes, Bizu once again outdoes itself with its new cake creation for this summer season, the Yoga Cake. The Yoga cake is a combination passion fruit, yogurt and lemon custard in between layers of Sable and Genoise Sponge. It is the perfect balance of healthy and yummy treat.
Yoga cake follows the yin and yang principle: petite yet flavor-packed and light but filled with the best ingredients that will surely lighten your summer. The Yoga Cake comes in three sizes: Personal (P165), Midi (P625), and Grande (P1,255).
I love the Yoga Cake. I love its balance between the strong flavor of the tropical fruit and the sweetness of yogurt and custard. With every bite I was in awe of the harmony created by the layers of flavor. The texture and flavor were perfection!
Come by and check out Bizu's Summer Treats. Bizu is located at Greenbelt 2, Greenhills Promenade, Glorietta 4 and Alabang Town Center. For inquiries you can call 757-BIZU or 724-BIZU or visit www.bizupatisserie.com.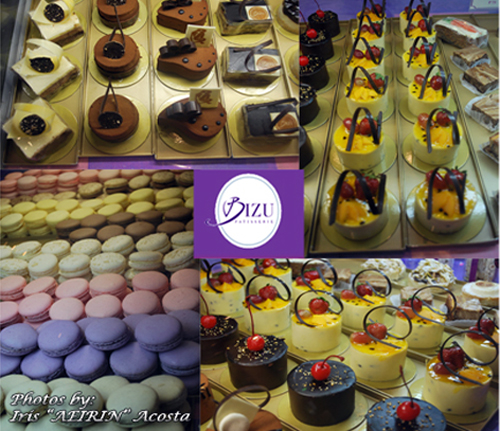 **Photos of Summer Sorbet and Yoga Cake courtesy of Bizu
The Bizu photos above is courtesy of Mye Chung.