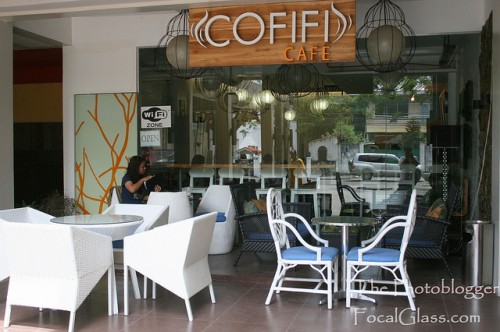 I've been cafe-hopping around in Cebu and most of the Cafe's, I realized are too, well, uniformed. For example if you go to Starbucks, you can sense it's the usual Starbucks and then when you go to another you associate with the "usual" word. Few weeks ago I decided to go to something new and out of the usual.

I dropped by Cofifi Cafe and fell in love with the place ever since. This time I was able to try their delicious Brownie ala Mode worth only 65php! Totally worth it if you ask me. I like how their Brownie doesn't crumble when touched (meaning it's not too dry). It's got a nice chewy texture just the way I like it.
The place is nice and the food and drinks are affordable! I personally love ucc coffee but the price does not love me Price is definitely one of the reasons why I keep coming back
If you'd drop by here in Cebu sometime to catch up with some old friends then do drop by in Cofifi Cafe which is located in Treehouse Bldg, Aboitiz St (Beside STC's back gate) Cebu, Philippines, 6000. You can call them with this number: 2680953.
They're usually open around 7:30am to 12am and on Fridays and Saturdays they close at 1am
Just a suggestion to Ms. Fifi, can we have other flavors in the ice cream too? I love strawberry with brownie. *just a suggestion*
I wonder if they might try to do Froyo's like what Coffeecat Cebu branch is doing But froyo or not I love this place anyway