I know I've blogged about The Happy Bakery before, but they just can't stop coming up with these awesome new cakes–which means I can't stop sampling everything that catches my eye too.  And they serve the best lunch soups around Makati, too. 😀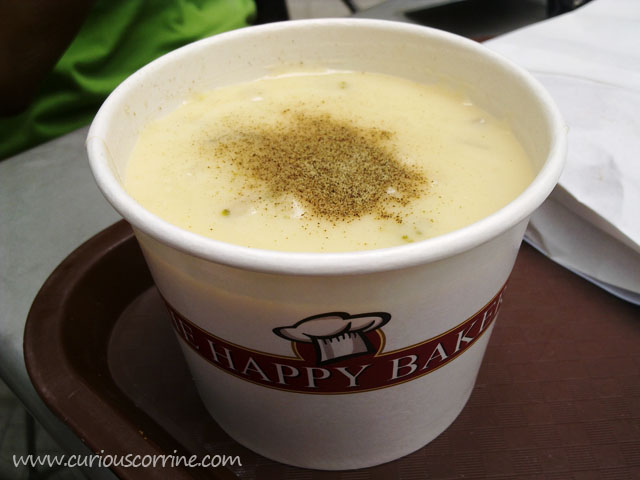 The summer season almost always means that I cut back on my rice consumption and eat more boring food, which is the reason why I've been frequenting this not-so-little corner a whole lot lately. The boyfriend and I are a fan of their soup because they're really thick, chunky and flavorful.
The photo above is their Broccoli and Cheese soup, which is my favorite soup from them. This is not a "fake" Broccoli and Cheese soup! It has real broccolis and cheese cubes that are just a joy (literally!) to eat. You'd be surprised to find out how filling soups can be–The Happy Bakery soups, in particular. They usually serve two or three variants per day, but you can sample each one of them if you're not in a hurry. 😛
This cake stopped me dead in my tracks. My photo does not do the cake's visual appeal any justice, but up close it's so vivid and colorful–truly enticing to the senses. The server was wheedling me into trying this, saying this is a new addition to their menu and whatnot. I deflected with a "I'm on a diet" remark, but within 5 seconds saw myself paying for a slice. Me and my restraint. Go figure. Haha.
I was pretty happy visually, but as soon as I dug my fork into the cake, I was bitterly disappointed. It was dry–too dry. The flavor is dull and boring too–I could barely taste the icing/glaze on top. It could use more icing or sugar for that matter. I took about four bites of this, shared this with the boyfriend who didn't like it, and didn't bother taking the leftover. It was so sad because I had high hopes for this cake especially since it looked particularly delicious.
Hmm, maybe I should stick to my yema cake.