Most of the members of the Patay Gutom clique have been vocal about their love for Krispy Kreme. You can actually catch us in different branches – Trinoma, Greenhills, Boni High, Mall of Asia, Megamall, Glorietta and Alabang. Eating Krispy Kreme donuts with matching drink of our choice can make us really, really happy.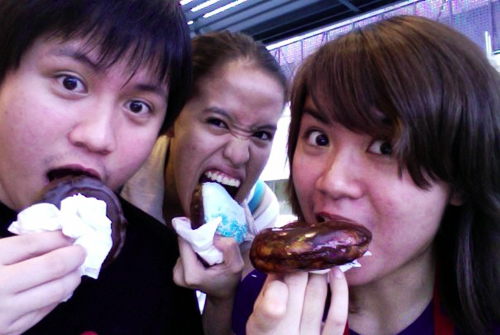 Anyway, did you know that Krispy Kreme is currently searching for their loyalists? There is an ongoing contest in the UK, Australia, Canada, Japan, Korea, Mexico, Malaysia, Indonesia, and of course, Philippines! Krispy Kreme is currently looking for their favorite fans and that could just be you!
So what do you have to do? Read on…
Just go to the Krispy Kreme FaveFan Promo website and select the country where you are currently joining.
Narrate how Krispy Kreme touched your life in any way. Family-bonding moments? Romantic date with your special someone? Special donut and mocha treat with a friend? Instant reunion with college buddies?
Uploading a photo with your favorite Krispy Kreme donut can also help increase your chances of winning! – Show that Krispy and sweet photo of yours while munching your favorite KK donut!
We have a number of photos while working or chatting at our favorite Krispy Kreme branch. Do you have what it takes to be recognized as Krispy Kreme's FaveFan? Join the contest now!
Join the Krispy Kreme FaveFan Promo Facebook page for updates and more promos!