Last March 5, PG Respondent Fitz went with 30 other bloggers to attend Detour – The Island Cove Adventure. Most of the day was spent going around the beautiful Island Cove and of course, eating!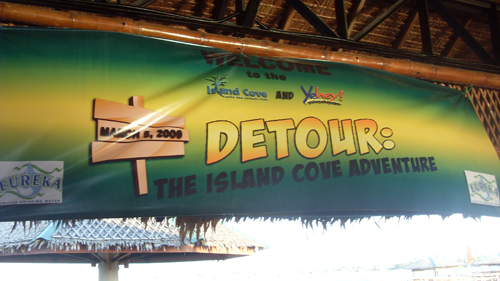 We arrived in Island Cove in Kawit, Cavite at around 9:00 AM, it's just an hour's drive from our meeting place, which was at Bonifacio High Street. Here's a shot of us during our morning orientation. We were eating hotdog, potato chips and drinking orange juice. 😛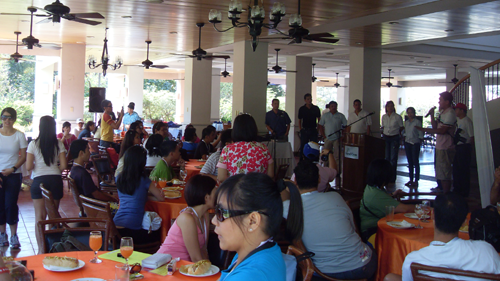 The first agenda of the day was a tour of the island. The bloggerventurer's were taken to see the different areas of the Island Cove hotel and leisure park which included the Oceania Water Park, the Animal Island, the Fishing Village, the Adventure Activity Zone and many more.
Here are some of the animals we saw. We were able to feed the monkeys with bananas and they were all patay gutom like us. Nyok! 😛
In the afternoon, the bloggerventurers played an Amazing Race game. We followed clues and did several tasks. I was with the green team along with Jeffrey, Audrey, Bryan, and our group leader, Jennifer.
Guess who won the Amazing Race game? It was our team, the Green Team! Woot!
Did you know that I had to eat a bowl of boiled ampalaya, onions and tomatoes during the food eating task? Sorry there's no picture of that, I was so much in a hurry to eat.
But anyway, here's a picture of our team and a blurry jumpshot during the awarding ceremonies. You can see Managing Director and Congressman Gilbert Remulla at the side watching us.
Sorry if I have no food pictures of our lunch, which was nilagang baka, lechon manok, liempo, talong with bagoong, pancit canton and fresh fruits. But here was our menu for our merienda, puto, turon, bibingka, puto bumbong and palabok. Yummy!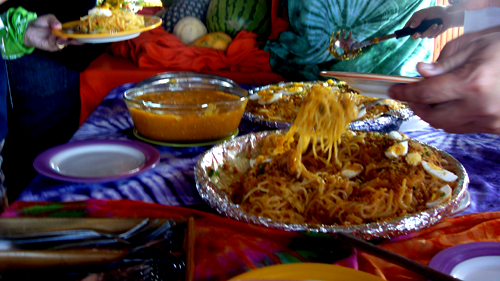 Lastly, here's our class picture.
Thank you Island Cove!