When you say 'sulit meals' in the Philippines, the usual serving is one cup of rice, two tablespoons of the viand and a side dish. This is in the Philippine setting, which is not really sulit at all. In reality, it is madaya LOL
A few weeks ago, Bong and Yuri invited a few bloggers to check out Big Daddy's Chicken. The name of the place actually sounded familiar. Later on, i found out that they have a branch in Theater Mall Greenhills. I arrived late that's why I missed the fun game part. I am not late for the dinner part though



When I saw the meal servings, i have to admit that i was a bit shocked. Why? Because the meal serving is really big for a price lower than a hundred bucks. The Chicken Chop is a real winner. It's cooked the right way and the Creamy Pasta is just perfect that i finished it all in five minutes
The Iced Green Tea as my drink made me happy. I loved the combination!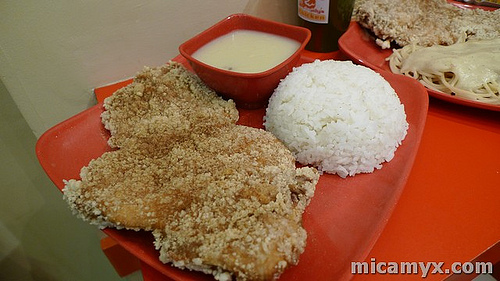 I am a certified Patay Gutom, but i actually gave up on the big size of the Chicken Chops 0_0. I can't help but remember the big servings of fastfood meals in other Asian countries. Apparently, the owners liked the idea of serving large portions of meals in a very affordable price when they saw one in Taiwan. I actually admire these young entrepreneurs who are willing to take risks in launching a 'new' concept of food business such as this one without risking the quality of the food.
BIG DADDY'S CHICKEN certainly defined what 'sulit' truly means! I would like to suggest though if they can also prepare some 'Kiddie Meals' since kids really love chicken.
You can visit Big Daddy's Chicken at Theater Mall (G/F Food Court Area) and it's newly-opened branch in SM Mall of Asia (G/F Entertainment Mall beside Toby's).