Hungry for shawarma at 2 o'clock in the morning? If you're in Malate or in Paranaque, then there's always Shawarma Snack Center (or SSC for short).
This very simple restaurant is one of the best places to fulfill your shawarma cravings anytime and any day – just like what this PG respondent did one night.

Aside from their shawarma, one of their must try food is the Qurma Beef which is like Beef Kaldereta. Very tasty and the serving is very generous. Get ready to order extra rice!
Or if you're craving for longsilog, then why not just try a similar dish called Cielo Kabab which comes with grilled tomatoes and arabic rice.
Hungry for more? Then head on over to SSC and taste their other great dishes. Who knows, you might see me there having some midnight snack. Nom nom!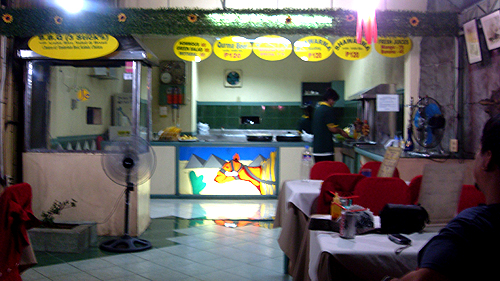 This Shawarma Snack Center branch is located at Presidents Avenue, Brgy. BF Homes, Paranaque City. They're open 24 hours.
Sorry for the not so good photo of the signage. I was so full and beginning to feel sleepy. Nyok!