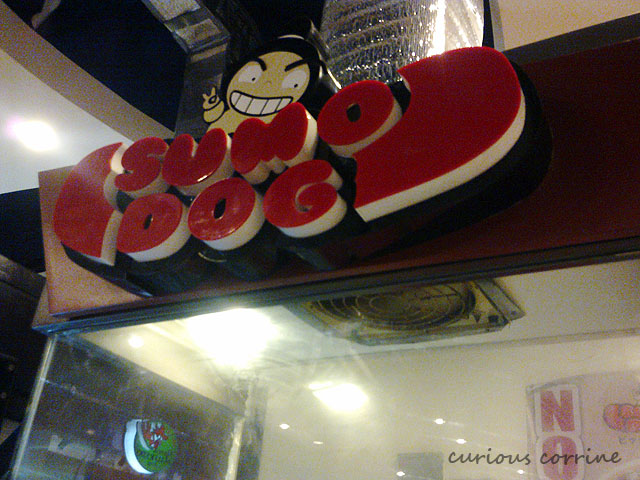 The Galleon Food Avenue is where I usually go to buy lunch. I have seen a number of food stalls come and go because I can only imagine how expensive it must be to run a small business in a building–in Makati, especially!
I don't need to see how much it really costs to rent a spot to know that. Green Tomato, for example, was a favorite of mine. I thought they were doing good financially but its stall in The Galleon disappeared, leaving my pasta cravings all weepy and sad. I can't be sure though if it was indeed financial strains that drove them away.
There's this fairly new food stall in The Galleon called Sumo Dog, a "hotdog" joint sans the hotdog. They serve sausages with a Japanese twist. I've never seen someone actually buying something from them so I got curious. I wondered if they were serving overpriced or just plain bad meals. I gave the food stall a chance one Monday afternoon and tried something off their menu.
I quickly noticed how limited their menu is. Look, they only have four (!) items there. I get easily overwhelmed with too many options, but this one is just way too few a menu–I hope they add more!
Lucky for me I had my phone with me so I decided to take pictures of our precious sausages being cooked. Funny how we watched my officemate's hungarian sausage "deflate" as it cooked.  Anyway, I chose the Oroshi. It has Bratwurst Sausage (the one on the left), white radish, green onions and a special soy sauce.
The sausage on the right is my officemate's Okonomi. If you like the other ingredients but don't like a particular sausage that goes with it, you can ask them to replace the original sausage with whatever it is you prefer. Just like my officemate who chose the Hungarian sausage instead of the Schublig sausage.
I was told that their sausages used to go for 100+ but I myself think it's a little steep. Especially when you're among other food vendors that can offer so much more for 100+.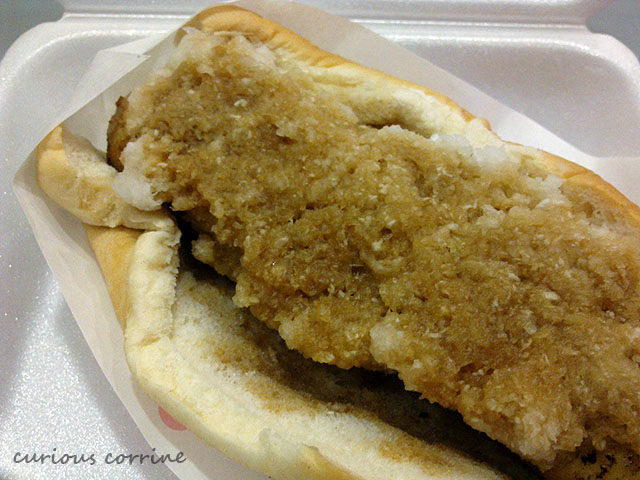 So here's my take-away Oroshi, which comes with iced tea, by the way. The white radish (freshly grated) aroma reeks so bad. I had to pretend it wasn't my plastic bag that smelled funny when I was in the elevator. It doesn't look too appetizing, I know. Probably because of the lack of color–they didn't have green onions that day so boo.
I took a bite and thought that it wasn't too bad. But then I realized how soggy the bun has become because of the "special sauce". I couldn't eat through all that mush so I ate the sausage on its own. The sausage was good on its own. Maybe I should have paired this with rice instead of a hotdog bun.
My officemate's sausage, meanwhile, was good. I should have ordered the same. Good thing I had a broccoli and cheese soup to down my bitterness away. 😀