Just like what my title suggested, my recent visit to Xin Wang Hong Kong Cafe wasn't my first time. My first experience wasn't here was pretty disappointing and I had no plans of returning here. The boyfriend, however, thought that we should give it another go.
It was almost closing time when we came in, so the waiters and waitresses kept close while they wait for us to order. I don't like it when that happens. Can we have a little privacy? I mean, standing two feet away from us (while eyeing us) won't speed up our decision-making at all. 😛
Anyway, I just wanted something warm and light that evening so I ordered a bowl of Chicken Congee. The presentation was really cute, as it was served in a steel bowl complete with lid! However, when it came time to enjoy it, I was left wanting for more. It was congee, but had no flavor at all. We had to throw in soy sauce and lots of chili to make it more savory to eat.
I  had to give it to them though, because I wasn't expecting numerous chunks of chicken and squash in it. At least the congee had real chicken? 🙂
The boyfriend ordered this plate of Spicy Noodles, which came with dumplings on the side. When it was served, I was turned off by its presentation. It looked a bit disgusting, to be honest. Then again, it must be the ginormous peppering of chili on top of the heap of noodles that's responsible for that.
Here comes the Pan-Fried Dumplings, the dish we so did not like the first time we were here. To be sure, the boyfriend asked the waiter to tell the cook/chef to make sure it's really "cooked" before serving to us. However, when it was served it still seemed a bit raw to taste. On top of that, it also had a jelly and gummy consistency.  Now we're not sure if that's the way these dumplings are supposed to taste or not.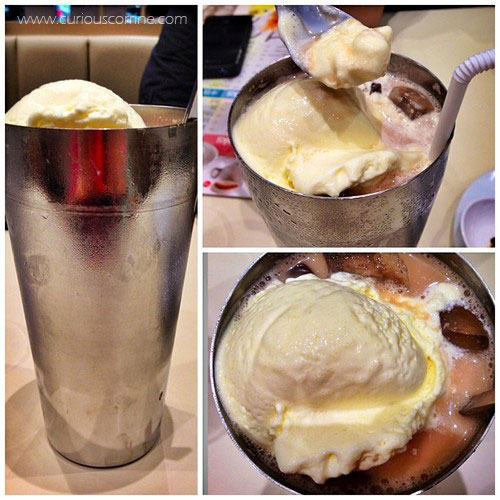 The first time we were here, the milk tea was our savior. We ordered the Iced Milk Tea, which basically is milk tea served with a scoop of vanilla ice cream on top. It was a good enough thirst quencher. 🙂
P.S.
For the Xin Wang Hong Kong Cafe first timers, don't be too surprised when you see their wide and varied menu. They really do have a lot of things in their menu — congee, spaghetti, lasagna, dumplings. Yup, it's like one crazy mash-up of eastern and western cuisines.