We've had lunch before at I Love Backyard BBQ, but I decided against blogging about that experience because I really hated the burger that was served to me. Cam and I were supposed to go on a KKL (kanya-kanyang lunch-out) 'til we heard some of our lunchmates are going to Bento Box–and so we tagged along. 🙂
The Makati branch is near Chocolate Fire. It's a bit hidden and tucked away so even though the restaurant can get packed, the scene outside remains calm and quiet. I wish our office was located here. No bystanders, no smokers, no whatever. 😀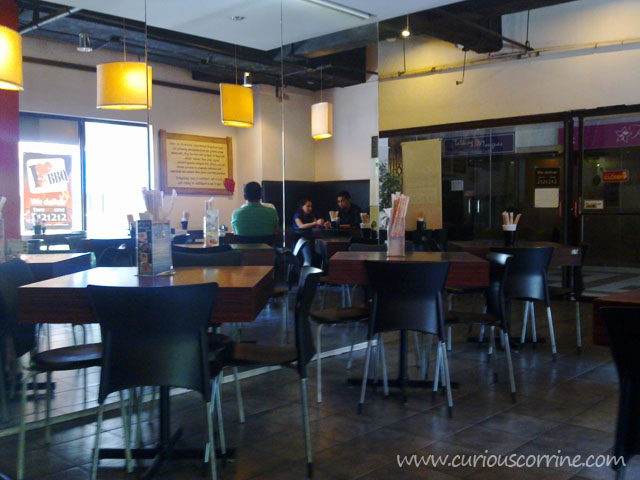 Bento Box and I Love Backyard BBQ actually share the same restaurant space although Bento Box signs are more prominent. I think they're also owned by the same family who owns Hawaiian BBQ–the Ongpauco's?
We were really lucky to have been the second group to arrive because the first time we went here, the place was packed and therefore the service was particularly slow.
Since I knew better than to order burger, I risked it and tried their Garlic Pasta. Priced at Php135, I would have expected them to serve a wee bit more than what they put on my plate. I could hold that pasta in my hand and not one single noodle would fall off. Thank God they served it with bread–and toasted garlic bits on top.
Other than the very disappointing portions, I thought the pasta was surprisingly okay for a restaurant that specializes in burgers and ribs. The pasta noodles were perfectly cooked–al dente, not soggy. It had a nice, inviting aroma (ah, the wonders of garlic!) which had me drooling the second it was served. Too bad it barely filled me up.
I'm pretty stoked that I Love Backyard BBQ somehow redeemed itself in my book. 😀