I think I'm the only one here who hasn't tried Brooklyn Pizza until last last Saturday. I subliminally insisted the boyfriend and a friend to dine here after ignoring Brooklyn Pizza's quaint little corner in Alabang Town Center for so many years.
I only wanted one thing that noon: pizza. I let the boys take charge of which to order, hence we ended up with an 18-inch pizza! Yes, that's what happens when you leave it to the boyfriend. LOL.
Well, I at least had some say on the flavor. We opted for a four flavor sampler that had Brooklyn Pizza's favorites: White Cheese, Pepperoni, Porko and Deluxe. I don't remember how many slices there were, but we did ask the waitress to return it to the kitchen and get it sliced into much more manageable sizes. Although it's not really that thick, it does come in big slices (think Yellow Cab).
I desperately wanted to try every flavor, but I was so full I only downed three slices. My favorite would be the Pepperoni, though I found everything quite delicious. The amount of cheese they put in there was just heavenly. 🙂
This Bacon and Mushroom Pasta was served first. I'm a big pasta girl and I thought this was a bit underwhelming. he flavor is there, but it doesn't tickle your taste buds–if you know what I mean. The pasta's cooked to near perfection though. 🙂 Also, there's enough bacon and mushroom bits in the plate. 🙂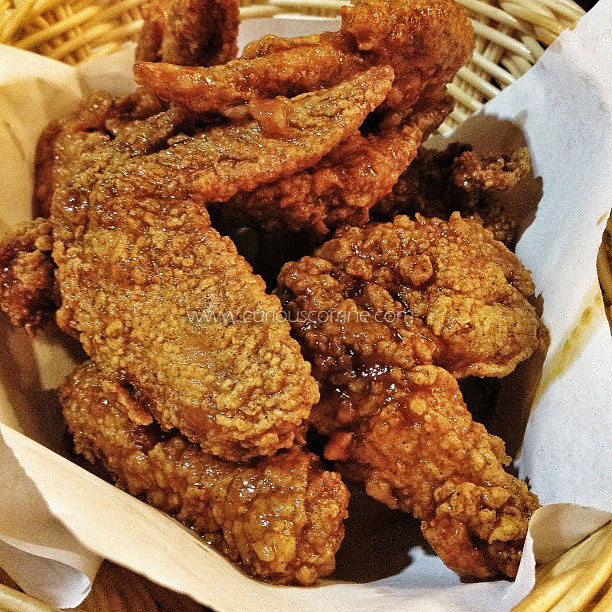 If I were to choose between pork, beef and chicken, I'd choose chicken in a heartbeat. I loooove chicken! That's why it's pretty much a no brainer to order Buffalo Wings.
Actually, we got this for free. The waitress told us that if we order four drinks (soda in cans), we can get buffalo wings for free. And so we did. I'm not sure if it's because we ordered a big-ass pizza or what. We're just happy that we got this by just paying for another soda. 😀
Anyway, their wings are pretty good. The boyfriend thought it wasn't too hot but I found it perfect in size and flavor. I swear I could have eaten five or more of these! 🙂 However, since I was sharing this with two men with big appetites, I was only allotted two pieces. Sad. 😀