Imagine my surprise when I saw my workmate walking up to our table at the GT Tower with this tray and a big plate of pasta. Immediately, I asked where he bought his lunch 'cause it was an unfamiliar dish. We've been dining far too often there, obviously, that's why. 😀
The second he mentioned Green Tomato, I flipped out in excitement.
The first (and last) time I got to experience Green Tomato was when I was working in a building along Paseo de Roxas. One of the nearest food corners in the area is The Galleon. Green Tomato had a small stall there that wasn't too popular among the lunch-goers, I assume–or perhaps the rent was too steep–that's why they moved out. Ever since, I've been waiting for them to pop up and alas, they did! 🙂
Last week, they were running a 50 % off promo which we minorly abused. I however, did not have a camera with me then so I wasn't able to blog about that. Today however, I made sure I had a camera or at least my phone with me to take pictures.
Here's what I (and the boyfriend) had/shared:
Puttanesca. I don't remember ever trying this dish before so I ordered one. While I commend their really generous portions, I wasn't even able to finish half of this bowl. It was really flavorful, perhaps too flavorful. I thought the olives were too overpowering for me. The bread they serve is really thick, too. A tip: they should cut down their portions and bring down their prices a bit. My Puttanesca, which costs Php140, is good enough for two. Even the boyfriend, who is such a heavy eater, thought they should do that too.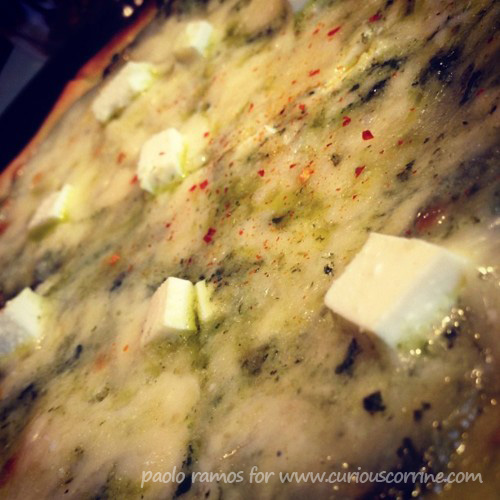 Pizza is my favorite item in their menu so we had to order one. The boyfriend and I shared a regular-sized Four Cheese Pizza (Php150), which had the perfect crust–thin, crunchy and toasted. I loved this pizza a lot. Too bad the boyfriend drizzled it with way too much hot sauce it literally burned my lips. 😡
Chicken & Mushroom Pasta. The boyfriend asked the Green Tomato attendant their recommendation and she suggested this. Next time, I think I'll order penne pasta instead of the spaghetti ones. It looks more manageable on the tummy. 😛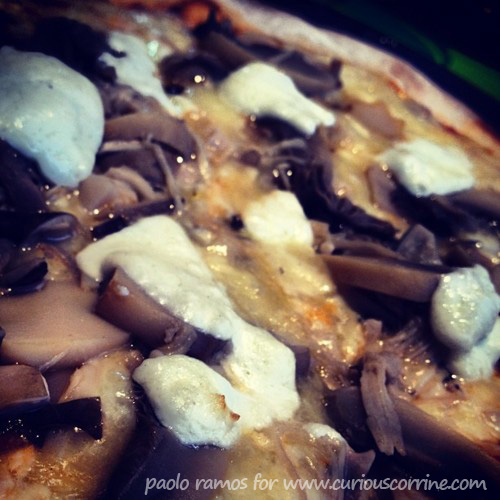 We had lunch with two friends who were also "Green Tomatoed," and their pizza looked really yummy. Well, it really was the name that got to us–Good Earth. The name carries a lot of impact, don't you think? That better be good. 🙂