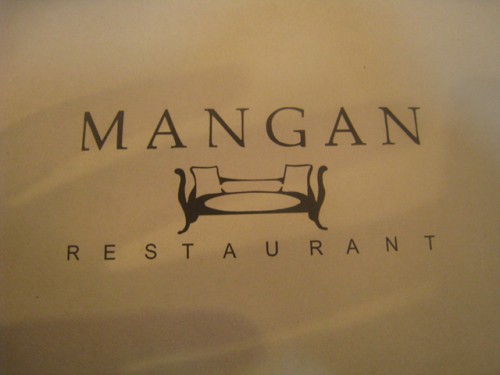 I've passed by Mangan so many times when I'm in MOA, but was never really enticed to walk in, grab a seat and eat away. Actually, I secretly stay away from Filipino restaurants because that's what I/we eat at home anyway. 😀 It's a shallow excuse, I know.
But yesterday, while the boyfriend and I were waiting for someone to deliver a pair of sneakers for him, I saw Mangan and quickly blurted out "dito na lang tayo kumain." I actually had to walk into the restaurant by myself and order for the two of us because the person we were supposed to meet up with was obviously taking baby steps to the meeting place. 😀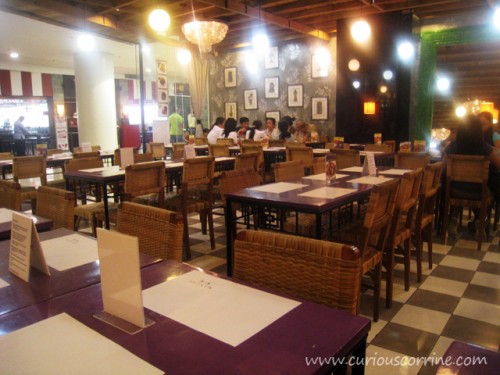 I like the ambiance a lot, which is like having a meal at somebody's ancestral house. The tables however, were too close to each other it was suffocating. One could easily ogle at what the table next to you is eating even if you just slightly move your head towards that direction. 😀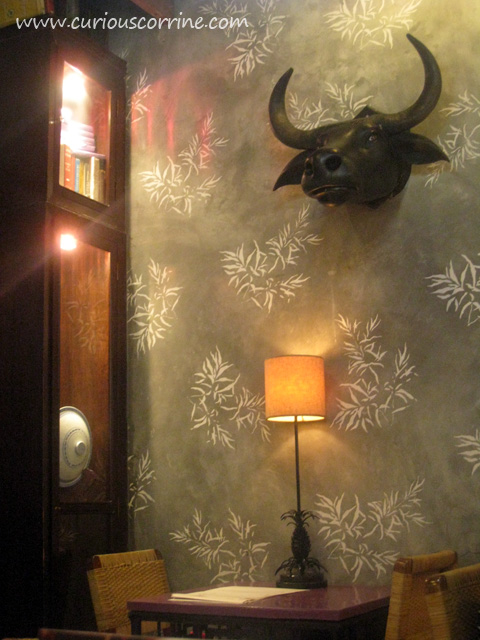 I liked this corner a lot. Wonder why I didn't pick this spot though. Oh right, because there was a cheesy foreigner-and-Pinay couple canoodling beside that table. 😀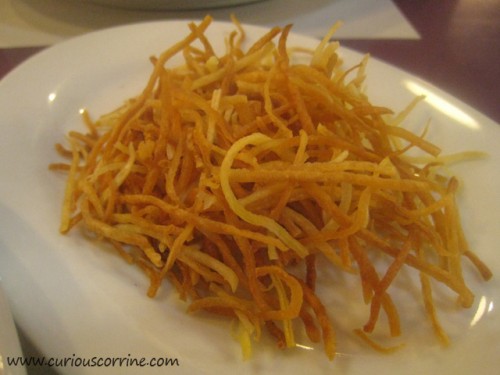 We were given this complimentary plate of, what we assume is, camote shoestring fries? 😀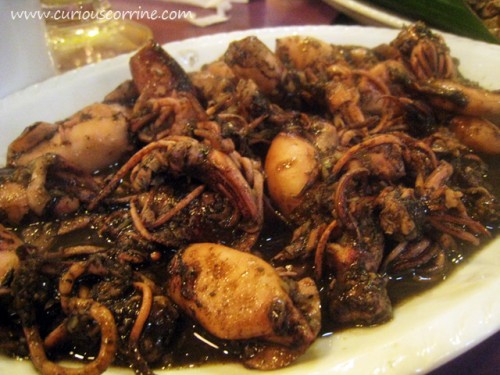 So, on to what we ate that day. I ordered Adobong Pusit (Php300), which is a huge serving good enough for three persons methinks. It tasted good (not great), and  it was paler than how my mom would usually cook Adobong Pusit. The broth was a bit runny though, which I didn't like.
Squid, by the way, is one of my favorite food. I don't care if it's adobo, dried or stuffed for I'll happily devour it. The boyfriend however, is a bit iffy about this dish thus leaving me to eat  more than half of this dish. 😀
The boyfriend's request–Sisig. The presentation made the dish look like it was only good for one person, but when we unraveled the banana leaf, here's what was inside: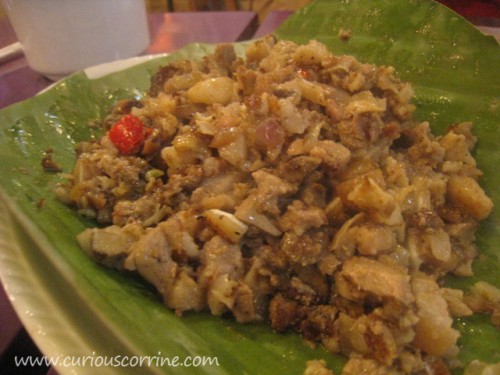 Sisig overload! Babe took charge of finishing this dish, since I was tasked to eat the pusit dish. Haha!  I did grab a spoonful of this though. It was pretty good, very meaty and flavorful! 🙂
Let me quickly share my Calamansi Juice drink, which I thought had a bitter aftertaste.  I bet it's the fact that they threw in two sliced calamansis in the drink.
Service was fairly quick until the tail end of our meal. We had to follow up B's order of extra rice three times, wait for the bill longer than usual, and scour the floor for any sign of customer assistance because there was one time when we couldn't find a single waiter. Those aside, it was a good dining experience. It's nothing I would come back for however. 😛