I think there's another buffalo wings place that could give my love for Wingman a run for its money. The name? Buffalo's Wings n' Things. Going to work, I always pass by this restaurant in Solaris One–along Dela Rosa in Makati–but never really thought it was special. It was beside Army Navy and you guys know how Army Navy is an automatic choice when you pit it against with another restaurant. 😀
One fateful lunch date (don't my "foodventures" always begin on a random lunch out?), a workmate expressed her desire–yes, she truly desired it–to dine here because apparently she loves it here. In fact, I was only one in our group that hasn't been here before. I had no idea which to order so I let a friend take the wheel.
We ended up with a 1/2 pound of garlic parmesan buffalo wings and another 1/2 pounds of New York's finest buffalo wings. The garlic parmesan basket is the non-spicy one, whereas the New York's finest option is the 4th spiciest variant. The seriously hot ones were the Nuclear and Armageddon. I know how it feels like to down a buffalo wing that's catastrophically spicy (Wingman!!) so we steered clear of that. 🙂
I don't remember if they have rice in the menu but we didn't eat these with rice. I actually shared these two with a friend, while the rest of us also opted for a bucket each. Mind you, we were all girls so I was proud to say that I was with women who could beat men on the dinner table. LOL.
The wings were good and even though New York's Finest shouldn't be too spicy, I found myself hosing my throat with water. It was savory from skin to meat and I would have loved it if I was at home right then and there so I could eat it with my bare hands. The garlic parmesan bucket was a bit underwhelming though.
I could tell that everyone enjoyed their wings too. Some tables were filled with yuppies eating away using their hands, clearly savoring the flavorful buffalo wings–not minding the fact they have to report to the office in an hour. LOL.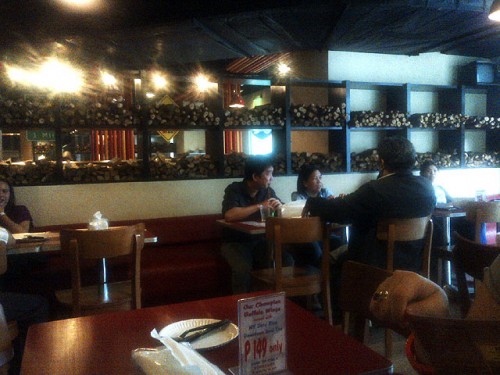 I would have enjoyed lunch even better if I hadn't seen roaches walking around those piles of firewood though. Gross, right? Perhaps they should ditch that decor and replace it with, oh I don't know, magazines or figurines?