It was such a rainy night when me and my two friends looked for a place to have dinner. We drove along Torres Street of Davao City and checked the array of restaurants to find a decent place to eat. We chose to dine at Trellis N' Vines after seeing that among the restaurants, it was one of those not fully packed. We haven't seen each other for quite some time and being in a crowded place was really not an option for a chitchat.

I've heard about this restaurant before from my other friends and most of them are telling me that one of their best sellers is their baby back ribs. I really want to try it but since I'm on a no-pork diet, we decided to exclude it from our orders at that time. The waiter suggested to us their Chicken Biryani with Cucumber Raita and Mango Chutney. He said that one serving is already enough for the three of us. Indeed, the serving is huge. I don't know if it just me or what, but I find it with too much spices thus making it very piquant. I know some people would prefer to have the taste like that but it is a kind of meal that you wouldn't want to eat a lot. In fact, we were not able to consume it.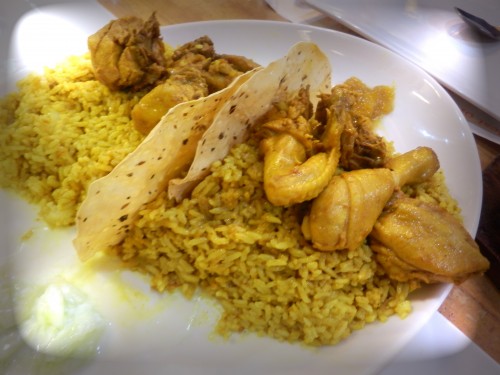 Since we do not want to have just one variety of food on our table, we ordered Sizzling Mixed Seafood as well. The presentation didn't impress me though but it tastes good. You will have a hard time identifying the seafood because they look exactly the same with the spices.
For our dessert, we ordered the Fresh Fruit Crepe which is again good for 2-3 persons per serving. Maybe we're not heavy eaters because for me it's just enough. It is very mouth watering, and the sweetness is just right.
All in all, the dinner that we had turned out good. We enjoyed the meal though we were not able to consume the Chicken Biryani.
The waiters were nice too. I would also commend them for their honesty because I happened to left one of my phones on their sofa and they immediately called my attention before we left the place.