Friday's is one of those many restaurants that I avoid simply because I tend to overindulge whenever I'm here. Food is always great here (so are the Mojitos!) so I usually lose all sense of control, forget about my diet and feel so terribly bad after. In fact, the last time I dined at Friday's was with my best friend–some two years ago. Yes, it has been that long.
It was one fateful Tuesday however, when the boyfriend and I found ourselves in the comfortable booth seats of Friday's. Wow that sounded dramatic. Too dramatic. 😀
For starters, we had this amazing plate of Chicken Fingers, which is basically a meal in itself. The chicken fingers were big and yummy, and the fries we're perfectly seasoned too. With only two people tackling this big plate, we were still able to bring these home. 😀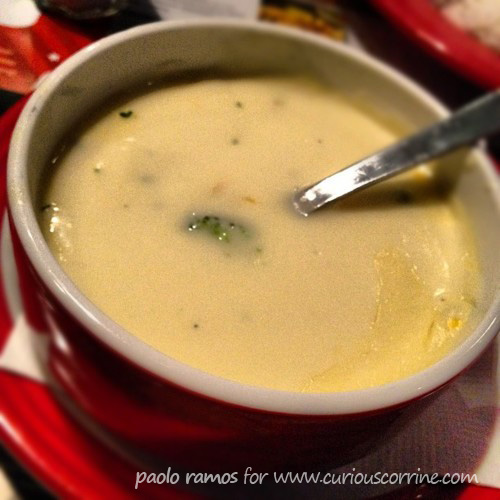 The boyfriend had this Broccoli and Cheese Soup, which I didn't try for fear that I wouldn't be able to eat my pasta plate after.
My love affair with pasta continues at Friday's, where I had the Cajun Shrimp & Chicken Pasta. Although this didn't blow my mind like their Mojitos do, I still liked this even though it needed a lot of salt.
Hmm, looking back though, I wish I added hot sauce. I bet this plate would have been doubly savory. As usual, I  wasn't able to finish this even though I already ordered the smallest plate. Hmp, typical.
The boyfriend, on the other hand, went down the Pinoy route and ordered Filipino Liempo. Judging by how fast he finished his plate, he enjoyed every bite. 🙂
P.S.
We only had less than an hour to have dinner before the movie (Battleship) was to start but for some reason, we decided to eat at Friday's. I know service is awesome here but I was pretty sure we would be missing the first 10 minutes of the movie since we usually take about an hour to order, eat and leave a restaurant.  To our surprise, we made it to the cinemas in time–with a couple of extra minutes to boot! Quick, efficient and awesome service as usual, Friday's. Bravo! 🙂