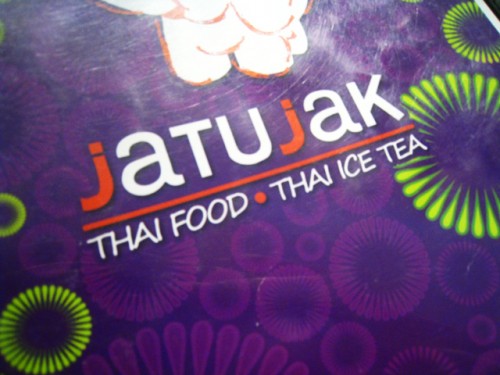 Let's be clear that I'm not a fan of Thai food. Well, that was until I got to try My Thai a couple of weeks ago. Riding on this minor gastronomical hangover, the boyfriend and I stopped by Jatujak one random night. Honestly, I would've never stepped foot here if it wasn't for the awesome experience we had at My Thai. 😀


Ordering Tom Yum was a last minute decision but it was perhaps the best one we did at Jatujak that night because it was the first (and only) dish that we really enjoyed. It was rightly tart, hot and oddly enough, calming. We couldn't stop ourselves from refilling our bowls until B snapped back to reality and forced ourselves to stop before we get too full for the actual dinner. For Php195 for a medium bowl, I say about four persons can share this soup.
B didn't even need to look at the menu. He knew what he wanted–Bagoong Rice. Jatujak's bagoong rice was good enough for two or three people. I have to say that though it looked appetizing, I found it really dry and bland. The green mango strips had more to offer than the actual rice.
Again, not a big fan of satay but occasionally I would find myself enjoying a stick or two of these just as long as they're really really good. Sadly however, Jatujak's pork satay was anything but that. Even though it was a pretty big serving for its price, I just didn't like their version of this Thai classic's  nutty-and-sweet-and-smokey flavor. I actually only had one stick and finishing it was such a drag.
So this was one of the more acceptable dishes we had that night. When I saw this on the menu, I didn't really think the chicken would be literally wrapped in pandan leaves. LOL. Unraveling the (tiny) boneless chicken is quite messy since it's really oily. I handled it like a grown woman though and used my bared hands. LOL. How adult of me. Anyway, it was okay. But since our food's standard that night was set pretty low, the boyfriend said that we should've just ordered Chicken Pandan instead of the Satay.
I would probably never return to Jatujak again. Even though I have friends who actually like the food here, I don't think me and Thai food will ever get along. LOL. Are you a fan of Thai food?