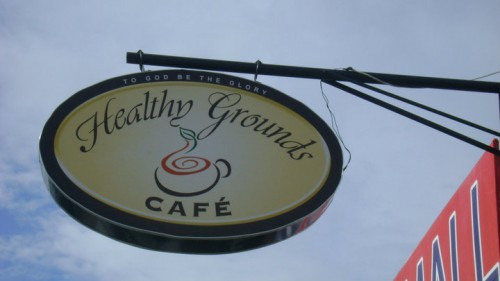 Oh, did my title sound like Mo Twister's show? Erm, just for the record, I am not copying him. 😀 Okay, moving on to this awesome cafe! There aren't that many Cavite-based restaurants being blogged right now that's why I'm happy (and eager) to be writing this piece.
After a tiring day playing Badminton in Dasma, driving to Alabang for lunch and a round of drinks, we returned to Imus to go home. Well, that was until I had a sudden craving for coffee and thought that we should perhaps drive by Healthy Grounds Cafe.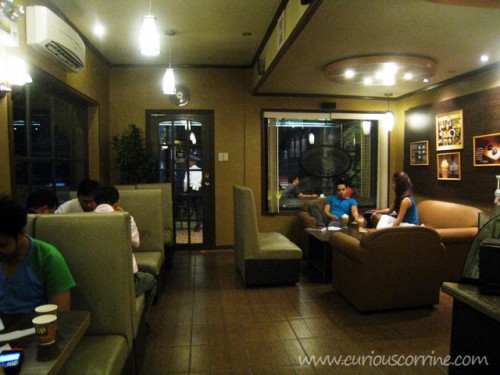 Although the cafe's just along Aguinaldo Highway, it's easy to miss in the morning since it stands beside an auto mall (or perhaps car shop is the better term). At night however, the place lights up making it easier to spot. I didn't think the cafe would have any customers since it was Sunday, and way past yuppies' bed time. 😀 But surprisingly, there were a handful of people there–and even more were arriving by the minute.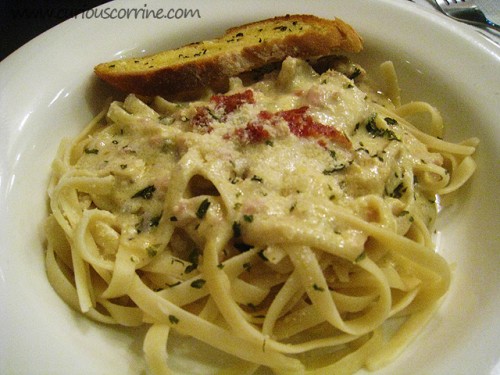 I let my friend guide me on what to order since she frequents this place a lot. She suggested the Carbonara, which I promptly ordered. There are two things I love about my plate of Carbonara:
the most delicious garlic bread ever
the perfect sauce + pasta combination. 😀
I honestly had a little trouble finishing this plate (but I did, eventually) because I already ate far too much than what my tummy can accommodate hours before we arrived here. I cook Carbonara too and found Healthy Grounds' version leaning creamier than how I would usually do mine. Setting that minor comment aside, I'd be happy to eat this the next time I visit. 🙂
What would a visit to a coffee shop be without ordering something caffeinated? I'm a sucker for anything that has caramel so obviously I had to try their Caramel Frappe. Frappes are served in a fairly big glass–a plus. I just don't know if they have take-away cups.
Here's what a friend ordered, Choco Chip Frappe! I know I should have taken a picture of it, but when he was halfway through his glass, he found a gold-mine like crevice in the middle filled with chocolate chips! It was amazing. All that chocolate chips for less than what you would usually get at that coffee-shop-that-must-not-be-named. 😀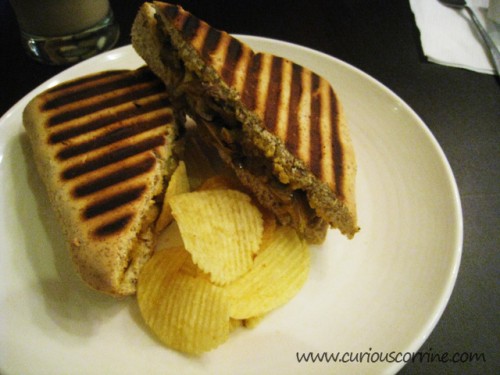 Healthy Grounds Cafe had just launched a new menu item, the Cheesesteak Panini, which my friend tried. He loved it, though it does look a bit overdone. I think they should add more chips too! 🙂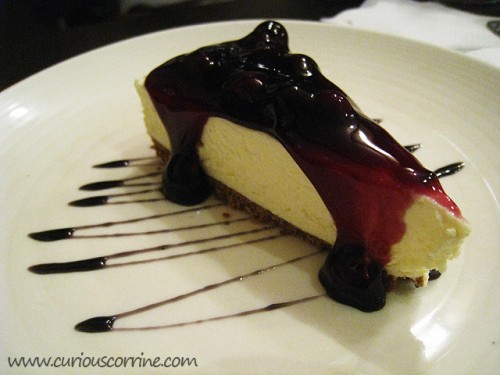 We were all done eating when we received this plate of blueberry cheesecake from the owner. Needless to say, we devoured–yup, I just had to emphasize that–this slice. It was heaven in my mouth, seriously. It wasn't disgustingly sweet, but was just perfect and delicious and divine. 😛 I will definitely have this again when I get the chance to visit Healthy Grounds again. 🙂
Patay Gutom readers who live near/in/around Cavite, you must check out this place. If you're coming from Manila via Aguinaldo Highway, the cafe's to your left, about 50 meters before Robinson's Imus. 🙂