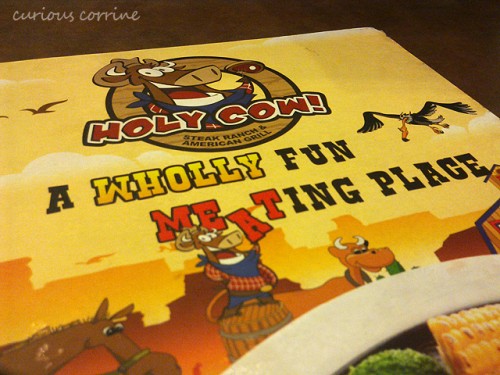 I've always liked Holy Cow Steak Ranch & American Grill for its generous servings and pocket-friendly prices. The boyfriend and I frequent this restaurant, particularly the one in Megamall. This, indeed, belongs to our list of "safe" restaurant choices on nights we can't decide where to eat. 🙂
So after work, we went to the SM Mall of Asia to meet my sister and her boyfriend, who drove my parents to the airport. I think we sneaked into every nook and cranny just looking for a nice place to have dinner until we grew tired and frustrated, thus, ending our great restaurant hunt in the rustic interiors of Holy Cow once more. 😛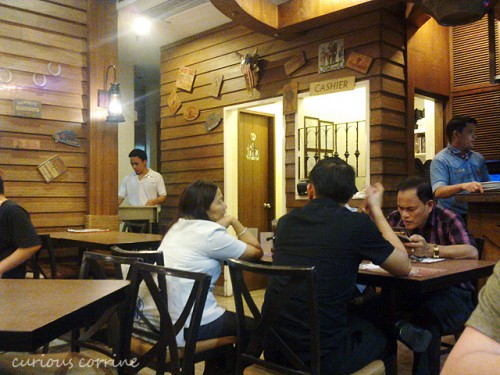 It's nice seeing the cool cowboy uniforms of the staff. Don't you like it when they really live up to their theme? I think it ups the dining experience and makes it more genuine. 😛 From where we were seated, we could see a tarpaulin promoting their "Lunch at the Ranch" set meals. We went for these meals, which can be upgraded to include an eat-all-you-can mushroom soup and iced tea for only Php49.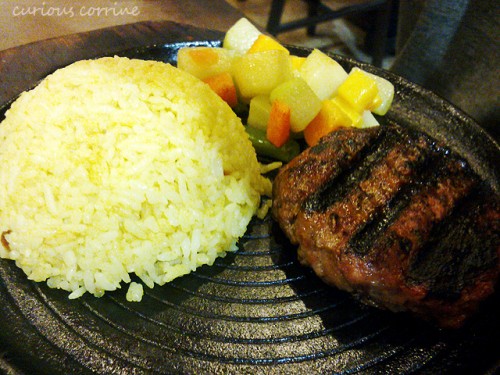 Whenever there's burgersteak, the boyfriend almost always orders that dish. Unless there's lamb, which is M-I-A in their menu anyway. Correct me if there is indeed a lamb meal in their menu, okay? Who knows, maybe we're just not paying enough attention to their menu. 🙂 So here's his Cowboy Ranch Style Burgersteak (Php175) with spicy peppercorn gravy.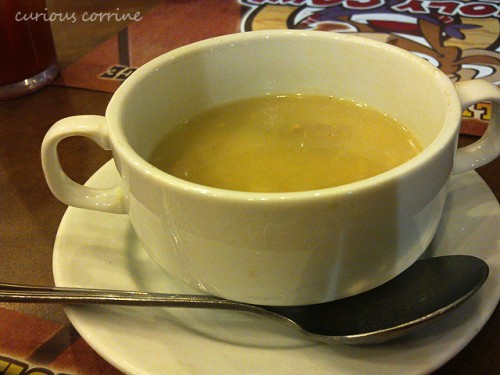 He also went for the eat-all-you-can upgrade and consumed two bowls of mushroom soup. Just looking at how the soup was served, I was mildly glad I skipped the upgrade. Sure, it's just an add-on, but still, presentation is important. I wonder if they even have croutons or whatever to liven up this bowl?
I had County's Pride Parmesan Chicken (Php170), which disappointed because of how dry the chicken breasts were. It was made passable, however,  with the parmesan goodness on top. Nevermind the parmesan cheese looking like a big blob of goo. Haha!
The boyfriend didn't like it saying it was boring and bland. Well, if it weren't for the parmesan, I probably would not have finished this plate. 😀
My sister had Beer Battered Rodeo Fish Fillet (Php175), while her boyfriend had Cowboy Ranch Style Porkchop (Php155). Actually, we ordered these for them. I forgot to ask how they liked what we order though. 😀
With our numerous Holy Cow dinners, we quickly noticed the little changes in their meals. For one, the boyfriend's meal was served in a sizzling plate without the "sizzle". My plate was neither hot nor warm as well. We saw the difference all the more when the diners near our table got their dishes sizzling hot.
I suggested that perhaps their "Lunch at the Ranch" meals are "economized" versions of their usual menu picks. If my assumption is correct, then don't you think it's a little discriminating? That just because the customer paid for a lesser-valued meal, he/she will also get a lesser-valued presentation?
If we had known that, we could have just ordered our menu favorites instead of their more affordable counterparts. Or maybe the kitchen staff had let the dishes sit way too long before serving it to us, hence, the slightly cold plates?
Whenever we eat in the Megamall branch, not once did we experience this. Hmm, could it be the branch? 😀 Nevermind this mishap because I think we'll see ourselves inside a Holy Cow restaurant some time in the future, anyway. But definitely not to order one of their "Lunch at the Ranch" offerings. 😛