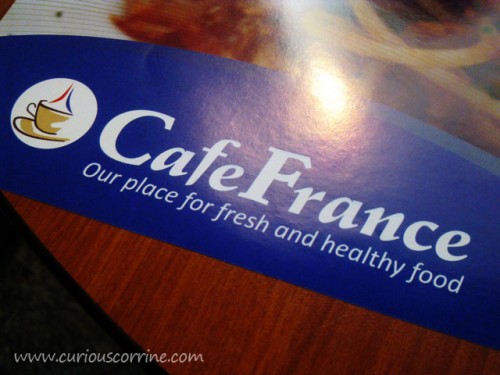 I've always thought Delifrance was another boring pastry-heavy restaurant. Even though it has been around for years, I never dared walked in. I'm not a big pastry fan so I never thought I had anything to lose. But when the Delifrance outside my then-office building suddenly morphed into Cafe France, I took notice and got interested.
I know this is such a shameful post, but I'm gonna be honest here. I've only ever been to Cafe France twice! Yes. Twice. Twice since I got interested in the restaurant, okay? The first time I dined here was when I and a bunch of workmates were headed to Zambales around April, and last week's lunch date with Camille was the second–and hopefully not last. 😀
On that specific day, I was torn between pizza and pasta. In that epic battle, my yearning for pasta won. We dined at the Cafe France branch in RCBC building, which I thought had an impeccably slow service.  The waitresses weren't even paying attention at how quickly the line grew. Nevertheless, I ordered what I assumed was the best Cafe Franc pasta dish–Seafood Marinara. This dish is pretty expensive for everyday lunch. It's definitely something I would probably get once a week depending on how much I've already splurged on non-essentials that particular week. Har.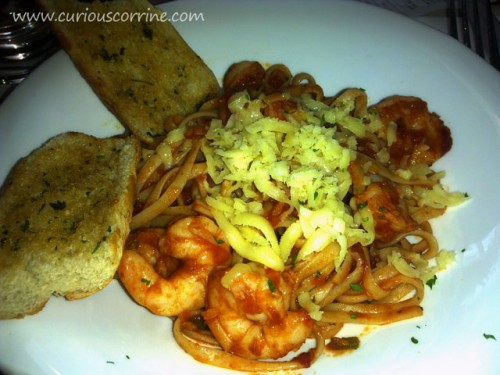 I know the photo is pretty terrible, but I accidentally deleted the one good photo I took while I was on a careless "deleting spree" this morning. My bad. Please do look past the flash for I found this dish amazing and yummy and worth my money. 😀 Although it probably won't be enough to fill up a hungry man's raging tummy, it's good enough to keep the rumbling on a woman's tummy at bay–like mine, for instance.
I loved the fact that I could actually see the seafood bits–shrimp, mussels, etc–and not just absentmindedly taste it in my mouth. The pasta was cooked al dente as well, which is always a  plus in my book. I thought the sauce was perfectly tart and definitely flavorful. Although the presentation is all sorts of off-putting, I'm pretty sure you're gonna enjoy this dish too, as much as I did.
I am officially counting this Seafood Marinara dish as my Cafe France favorite. 🙂
P.S.
During my first Cafe France dining experience, I also had pasta but it was completely forgettable my brain ever forgot its name already. 😀