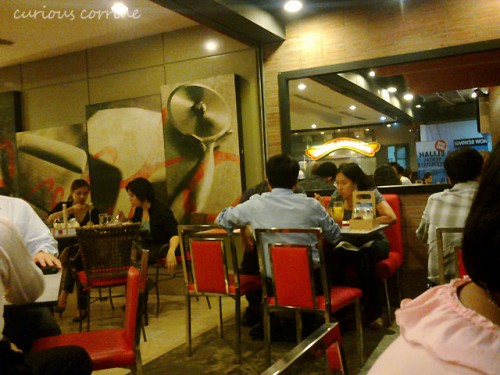 Pasto, which I first got to try with the boyfriend last year, is slowly inching its way on top of my list of favorite restaurants solely for its affordable pastas and thin crust pizzas.
Their Paseo Center branch is on the third floor, which is pretty hard to miss when you're not up for riding the escalator and up the stairs to the mezzanine-like third floor. But since we all have a certain fondness toward their dishes, we didn't notice the stairs. 😛
I initially wanted the Gamberi dish but Liv also had her eye on the same dish so I changed my order and went for the Vongole pasta (Php235) instead. It's an olive oil-based pasta dish with tomatoes and clams.
The presentation did not excite me at all. I was pretty much disappointed with the lack of tomatoes and, uhm, clams. You can't even see any clam on that photo. There were like, three tiny pieces, I think. Boo!
I was expecting to be positively punched by this but it tasted kind of bland for me. Not wanting to waste my order, I smothered it with lots of chili flakes. 😀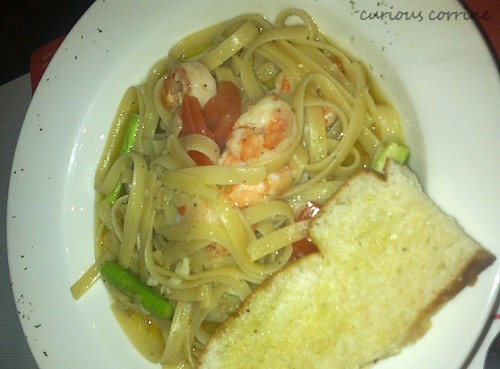 Now this is what I originally wanted, the Gamberi pasta (Php235). This one looks so much better than my pasta. I could at least see some shrimps. Haha. Also in the pasta are fresh tomatoes and some asparagus.
My Vongole and Liv's Gamberi were served first. But it was kinda funny how the waiter placed them on our table but then took them back a minute later because he "thought" they were meant for another table. Five minutes later he returned with the same plates.  😀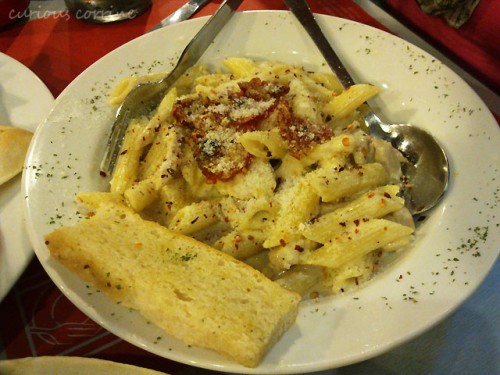 Grace had Pollo Cremoso (Php225), a very appetizing bowl of penne pasta with sun-dried tomatoes and mushrooms. The green "specks" on the side of the dishes are bothering me. They look like green dirt. I say do away with those "fancy" shebang. Nothing beats a clean plate.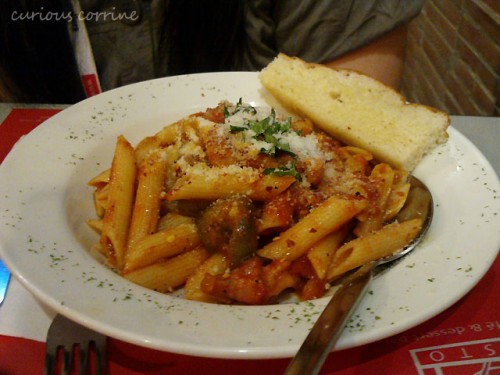 This one's the Melanzana (Php215) pasta. It has eggplant, smoked bacon and mozzarella.  I don't like eggplant so I don't think my mouth will be experiencing this anytime soon. 😛
This was the only spaghetti on the table! This was what Natz had and I think this one's called Polpette (Ph215). It's your traditional spaghetti and meatball dish with tomato sauce. By the way, I want those meatballs! I mean, meatball. 😀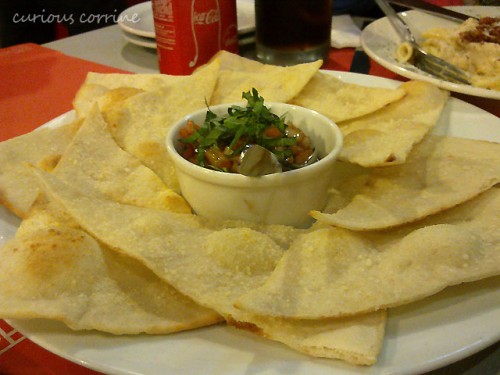 There was a promo running that day where Citibank card holders get a free Crostini for orders worth at least Php1,000. Yay to free food! I liked this a lot. A great appetizer to start a hearty meal. 🙂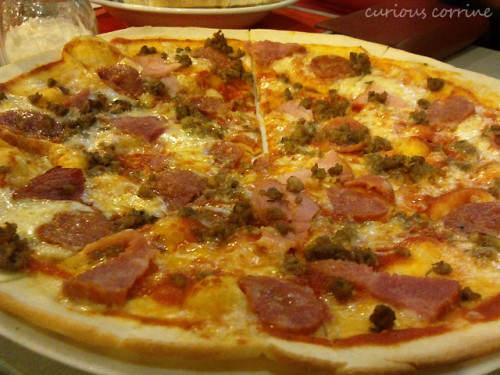 Here's the Di Carne pizza (Php265), which I really like because of its great crust-sauce-toppings ratio. On top are Italian sausage, smoked ham and pepperoni. 🙂
A little trivia: because of how thin this pizza is, one of us (not me, definitely) managed to wolf down a whole pizza on a previous visit. Then again, what's so wrong about that? Julia Roberts did eat an entire Margherita Pizza in Eat Pray Love, right? 😀
By the way, forgive me for these awful photos. I forgot my camera in the office because we were in such a rush. Good thing I remembered to bring my phone, which is just as good in taking pictures. 🙂