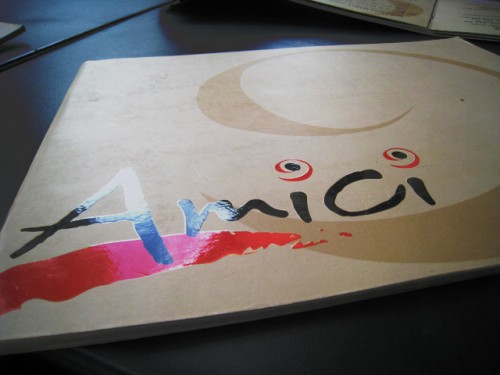 I don't think there's anybody here who doesn't love Amici. Right?
A favorite of many, I always make it a point to order the Tesori Del Mare pasta whenever I'm here. But one can get tired from having the same dish over and over again, so I went with a dish that sounded and looked good on the menu.
The Tortellini Mortadella looked really good on and off the menu! Swimming in yummy creamy sauce, the six tortellinis are stuffed with Mortadella sausage. I love the simplicity of the flavor, but would have loved if there were more Mortadella sausage stuffing. The bacon, however, made up for it.  I remember telling a friend that the dish tasted "healthy" and "green." I know it's a sucky description but that's that. LOL.
With only six tortellinis, it was easy to finish this plate. Then again, I was left wanting more. In the end, I scooped the remaining cream sauce. 😛
To dine at a pasta and pizza place without ordering pizza is blasphemy in my book. As such, we settled for the Tutta Carne pizza. Topped with Italian sausage, ham, and pepperoni, the pizza was a hit among my friends. I didn't even get to eat a slice!
Although I forgot to take a picture of our dessert, I'm pretty sure you guys would know of how good Amici's pistachio gelato is. 😛