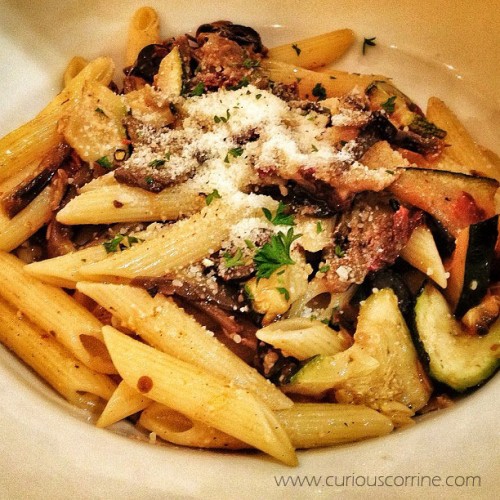 I have never considered trying Cafe Mediterranean's pasta dishes until today.
Initially wanting a salad, I found myself mumbling "Pasta Mediterranea" when it came time to tell the waiter which dish I would like.
I'm almost always indecisive and unpredictable like that when it comes to food. The boyfriend even blurted out "akala ko ba salad?" when he heard what I ordered.
The whole scene was pretty funny, actually, but I know my humor doesn't always translate really well on print so it's okay if none of you, m'dear readers, laugh. 😀

When my pasta arrived, my nostrils flared up with the menagerie of aromas. It flared up in a good way, that is. As you can see, the dish was bursting with anchovies, eggplants and cheese.
Since I don't usually eat pasta that isn't topped with red or white sauce or olive oil, the dish really intrigued me. The anchovies were the first to attack my palate and I was more than happy to eat every piece. I, however, wasn't really into all the eggplants in the dish. Give me anchovies anytime of the day but eggplant? No, not a big fan.
But the star of this pasta dish were the anchovies. They were the only ones giving some depth to the dish. Even the actual pasta was less than stellar because it was a bit gummy. While I was expecting this to knock me off my seat, it was good enough for me. Thanks to this, I may actually start exploring more of Cafe Med's pasta lineup. 🙂