Joey Pepperoni has been around for quite some time now but I've only ever eaten there once. And that happened some three years ago. Even then I thought they had very pocket-friendly meals, but I also thought that their food wasn't up to par. I remember eating at their Mall of Asia branch and giving up halfway to my pesto pasta.
Eager to skip a GT or LKG lunch, I dragged an officemate to the Joey Pepperoni branch in Columns. The boyfriend tagged along too, well aware that I wouldn't be able to finish whatever it is that I order.
The boyfriend was aware that they almost always run a promo, and true enough, they had Php199 offering for two pizzas. We availed of the promo and ordered a garlic & cheese and beefy something pizza.
Yes, I forgot the second pizza 'cause I thought it was forgettable. It looks like something my little sister could prepare with her eyes closed. It might even taste better.
Although the garlic & cheese pizza didn't look as appetizing, I thought it was more up my alley in terms of taste. For Php199, it would be better to get a decent burger elsewhere.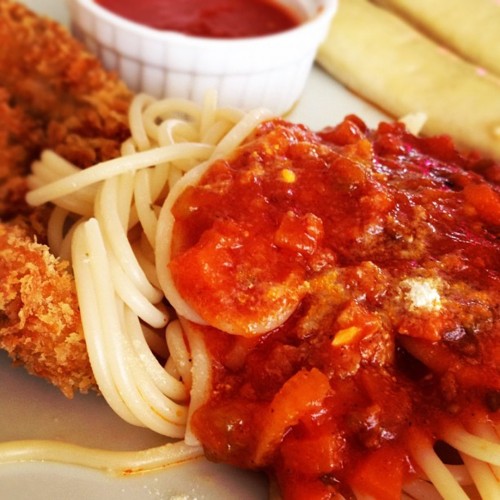 The three of us ordered a set meal each, which included free iced tea. I ordered the fourth set, with spaghetti bolognese, bread sticks and chicken fingers.
There wasn't anything extraordinary about the pasta, though the chicken fingers were pretty good. At least there really were chicken meat inside! The bread was soft, with a faint garlic flavor.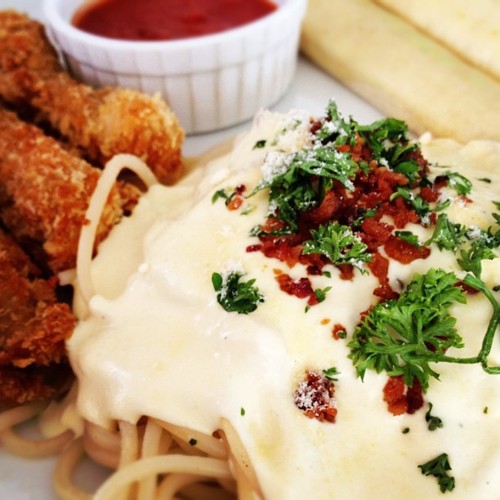 Above is the boyfriend's order. Since you can choose which pasta you want, he opted for carbonara. It was average. Well, you can't really expect much in terms of flavor with a set meal like this. We left the restaurant as soon as we finished  because frankly, we didn't feel "welcome" there. This waitress who was serving us didn't even bother to smile or something. She was so serious.
Anyway, I was right not to expect anything spectacular from Joey Pepperoni. I guess it'll be years before I return again.