Pardon my absence from the Patay Gutom radar the past month of August. You see, I willingly abstained from frequent lunch-outs and dinner dates as I was seriously concerned my jeans were close to becoming of maternity size. LOL. All it took however, was a workmate craving noodles and there goes my diet plans down the drain. Oh well. There's still next month to look forward to.
Last Friday (aka the day my diet was buried and forgotten), a bunch of workmates and I cabbed to Paseo Center just to fulfill a friend's desire to have Pho Hoa noodles for lunch. Paseo Center is now a far-and-away foodie place for me because I now work in Ayala FGU. Before, Paseo Center was a cartwheel away.

Initially, I wanted to have Beef Stew or perhaps try a new bowl of noodles I haven't had before. But the idea of working through the evening with only a bowl of noodles to sustain me forced me to quickly switch it up and go for–what the hell–a rice meal. :[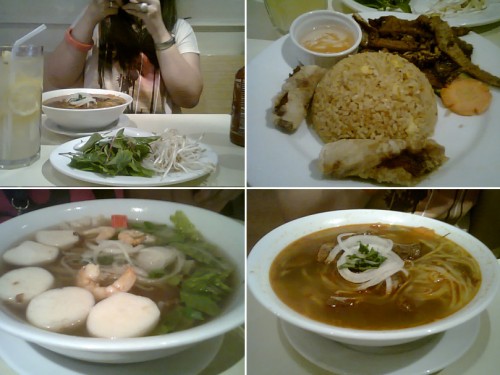 Gosh the image quality is so bad.
I've had the Beef Stew before and I know it's so yummy so I let the opportunity to enjoy a hot bowl of noodles slip  just so I could really fill myself up with grilled pork, spring rolls and rice. To be honest, the grilled pork strips didn't stray from the usual Pinoy flavor. It was mildly sweet and perfectly tender. I love the spring rolls though! It was bursting with flavor despite its  unexciting presentation.
I finished my rice plate before the two girls were halfway done with their noodles. Next time I'm at Pho Hoa, I'm really going for their noodles. Swear.
What's your favorite Pho Hoa dish? 🙂
P.S. Let me just quickly note that service (when we were there) was terrible. We've probably gone through every conversation topic possible before my plate arrived.