Breaking away from our lunch routine, we went to the nearby RCBC building to get our Thursday "lofong" needs. Of the handful of times we've been to RCBC before, I've always took notice of the long lines at Tutti Dolci so we were surprised to see the place free of yuppies.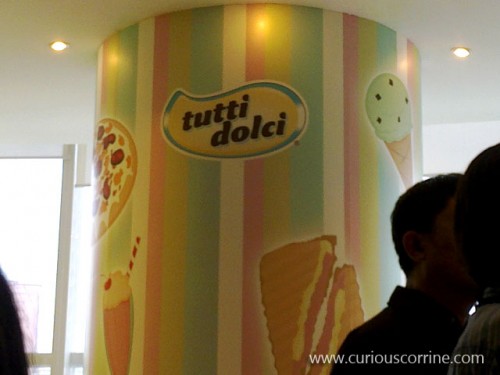 The place doesn't give off a very restaurant-ish vibe. In fact, it looks like an ice cream parlor or perhaps a pastry shop like Banapple because of how–uhm–soft and feminine the place is. Looking at the menu, I was completely baffled because most of the items were pasta dishes and rice meals. Then again, they do have a tiny gelato corner.
This week, I've been eating a lot of pesto pizza, which prompted me to order Tutti Dolci's Hungarian Pesto. I had high hopes for this dish, but as soon as it was served on our table, my world almost immediately crashed. Yup, I just had to exaggerate that because it was disgustingly bland, offensively plain, and just–grr–depressing.
Even though it looked appetizing, the pasta had nothing flavorful to offer–in fact, it had no flavor at all! The only thing I could taste were the pasta. I drizzled it with about a spoonful of hot sauce and half a tablespoon of black pepper just so my tongue could grasp a taste of anything. Besides that, portions were terrible. Had their pasta dish been good, I would probably need two and a half of plates of that same pasta to satisfy my tummy.
The slices of Hungarian sausage were good though. Maybe they should just serve Hungarian sausage. That is perhaps the reason why this meal (including iced tea) just costs Php90. Blah.
The boyfriend on the other hand, chose Chicken Cordon Bleu. Similar to my rant, the boyfriend was beyond disappointed by the portions. The dish comes with a tiny chicken cordon bleu that won't even be enough for a girl my size. As if my bland and boring pasta wasn't enough of a lunch killer, he found a piece of toothpick inside the cordon bleu. The kitchen staff forgot to remove it, I guess. 🙁
Our two lunch companions were neither impressed nor pleased with their chosen meals too so we all decided to head out quickly to get dessert. We ended up gorging on Krispy Kreme donuts to turn our day around. Yes, we were that depressed.