Across the street from SM Hypermart on E. Roriguez Jr. Ave. (C5), amidst a collection of small restaurants, a bakery shop and an archery is a place called Panciteria San Jacinto. Don't be fooled by the simple name – this uber restaurant packs in the goodness – you will leave with a stomach packed full with great food and a smile on your face because of their awesome service.
"Panciteria San Jacinto invites you to rediscover the classic Cantonese taste of Binondo in a relaxing country-style restaurant."
Waiters were polite and accommodating, you'll feel like you're in a hotel. They were all uniformed and neat looking. The restaurant itself had a homey feel, with roosters and hens decorating the walls. Everything was nice and comfortable.
But what about the food right? We ordered a set meal usually meant for 10, but you could order just half of that. There was 5 of us  having a late lunch on a lazy Sunday afternoon.
The set menu included fish, pork, bean curd, beef, vegetables and soup dishes. Here come the photos:
It's a Panciteria so we couldn't have not tried some Pancit! It was very good. Yum.
The set menu had some fishies – Fried Lapu-lapu with Sweet Sour Sauce
This was quite delectable – Bean Curd with Lechon
For dessert, we had some Almond Jelly with Lychees. I'm not a huge fan of lychees and find them quite difficult to eat. But my sister liked it a lot. 😀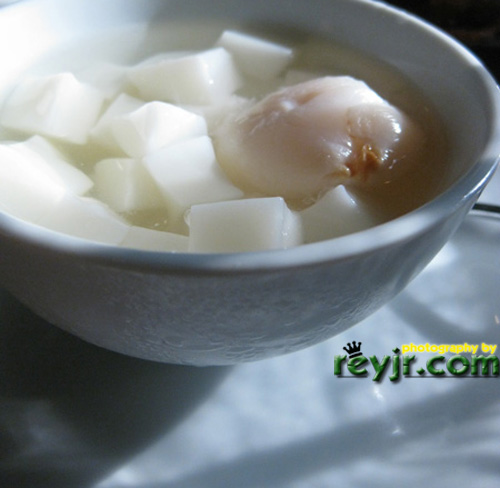 For a look at the complete menu, visit their website @ http://www.panciteriasanjacinto.com/ – prices of the food are all available on their website. Awesome right? 😀