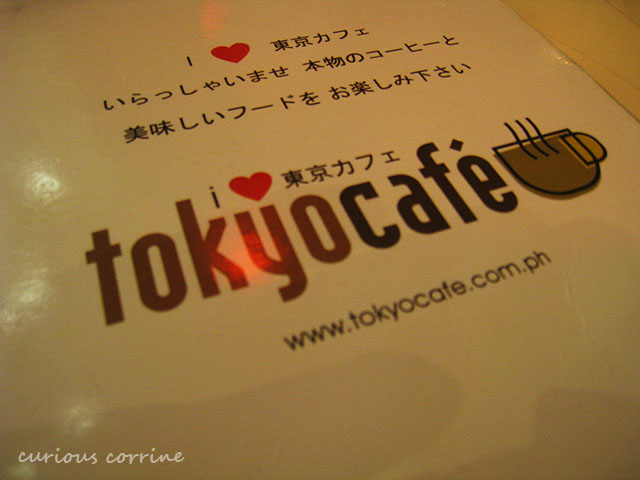 I've always had this impression that Tokyo Cafe's menu consists of mainly Japanese classics with a twist. But boy was I wrong. It was my first time when we decided to check it out one Friday night. The fake plastic food lining up their display window looked appetizing so we went in.
I was already mildly annoyed with their service because two waitresses already saw us by the door, but they didn't even bother to walk up to us and usher us to a vacant table. Mind you, they weren't that full that night. I could see lots of available tables. Brushing that off, one waitress' quick delivery of two glasses of water and menu compensated for the other staff's apathy.
Surprised by how far-off their menu was from what I was expecting, it took me a long time to decide which to order. I kept flipping through the menu, checking every corner to see if there's a dish I'm missing. In the end, it was a battle between two salads with the Seafood Salad (Php241) winning by a slim margin.
So here's my very boring salad plate. I know how it's just salad, but I really find their presentation dull and boring. The veggies weren't as vibrant as they should be. It really was just such a sad plate of salad. It's the kind of salad that makes us, who are on a diet, even more depressed that we are depriving ourselves of such great food!
Moving on from my awful salad, the boyfriend started his meal with a clam chowder (Php145) soup. We weren't able to take a photo of it because he ate as soon as it was served. 😀 Though excited to taste the soup at the beginning, he didn't like it. He told me that it was runny and bland. He was also very annoyed that it wasn't served hot. I mean, who eats a bowl of cold soup?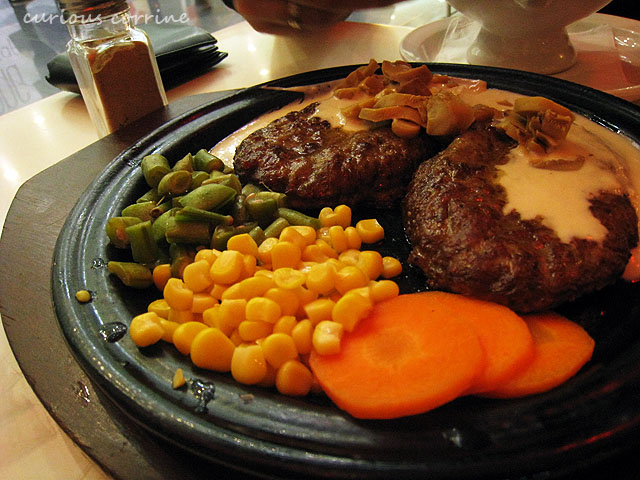 This plate of Garlic Cream Hamburg (Php210) was also such a disappointment. I tasted it myself and they tasted weird. Well, not weird. But it didn't taste like restaurant-quality burgersteak. It's a wonder how B managed to finish his plate. If you want this with rice, you have to add around Php40 i think.
Besides the taste, it was again served cold. Not ice-cold, but definitely not fresh-off-the-grill hot. It was quite ironic since it was served on a sizzling plate in the first place.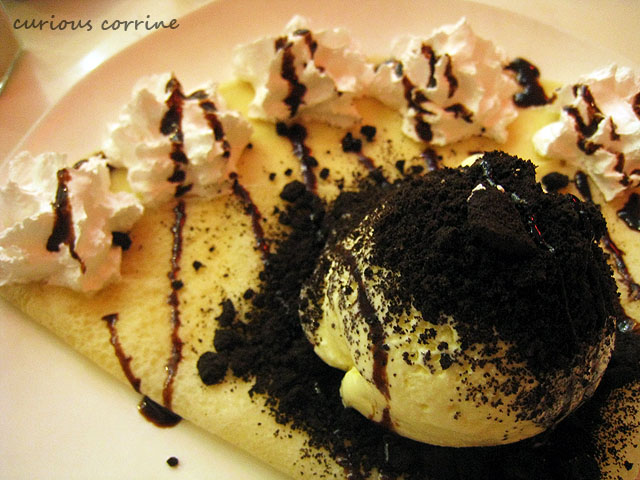 My tummy was protesting that night–how could I fill 'em up with such an awful salad? With that, I ordered a Cookies & Creme Crepe (Php100), eager to down my foodie bad vibes with tons of sugar. I rarely order dessert but I cannot be anymore pleased that I did that night. Imagine how awful our dinner would have been if we didn't order this yummy dessert, right?
Over dinner, B mentioned that Tokyo Cafe used to serve good food. These days, it's easy to believe that Tokyo Cafe was once a decent restaurant. With age and competition, I guess Tokyo Cafe couldn't keep up. I wonder though if coffee is their real specialty? If that's the case, why not zero in on that? Hmm.