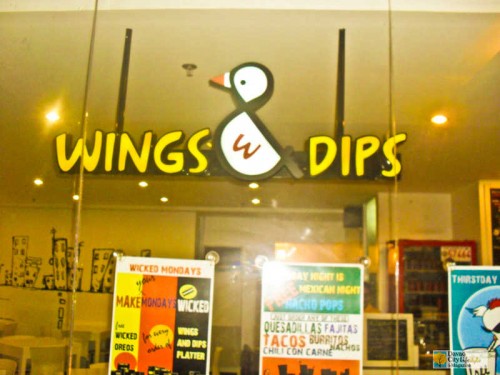 It's another "ME" day and I think I need to roam around somewhere and treat myself with a lavish dish. 'Eat All You Can' food establishments are quite popular in the city but I don't think that would satisfy my hunger at this moment.

My feet lead me to The Peak, the new food arcade located at the top of Gaisano Mall of Davao. Right at the entrance, a seemed to be relaxing place caught my attention. Their store signage reads Wings and Dips so basically they're serving chicken wings with a variety of dips.
I'm a chicken lover so I guess I might give them a chance to satisfy my hunger this time. Without any idea what they have in store, I approached the counter and asked the lady what's their best seller. She can't seem to answer me immediately, but instead she told me that when customers eat in their place, they would usually choose the mood of their chicken followed by the dip that they want while some would add side dishes. She also offered to me their combo meals which is composed of chicken wings, a choice of pasta and a side dish.
The choices for their moods were the originals which is composed of mild, hot and inferno. They also have New York Kick, Classic Western, and Spicy Que, Honey BBQ, Shanghai Chili Garlic, and Tokyo Teriyaki. For their dips, they have blue cheese, wasabi mayo, honey mustard, lemon mayo and tartar.
I chose the one of their combo meals, the one with the bolognese pasta and potato fries. I had my mood on Honey BBQ together with a blue cheese dip. At P160 with a glass of iced tea, I think the meal is worth it.
I enjoyed my meal and since the ambiance is nice, I could definitely say that my "ME" day was a success.