My family loves fruits that's why we usually buy them in bulk. Imagine my surprise when I saw this insanely huge watermelon being carried by my father one afternoon. He just came from Bulacan and this was his pasalubong for me.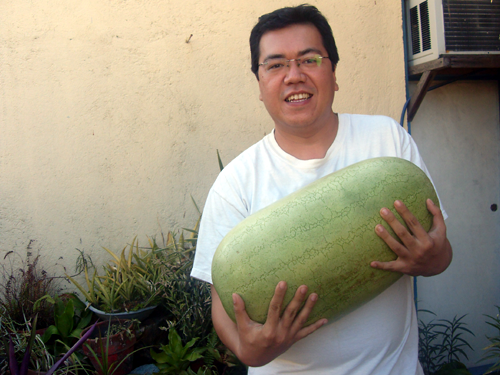 He knows that I love watermelons and like any patay gutom, my mouth started to water at the sight of this gigantic pakwan. 😛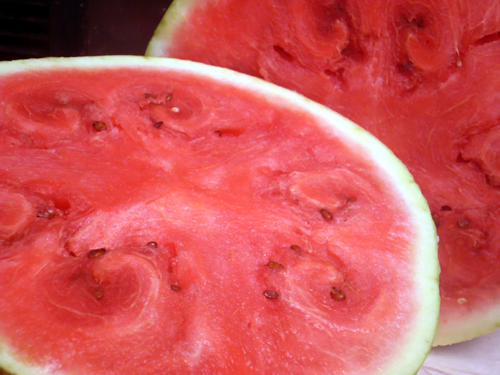 So what do you do with this much watermelon? You make watermelon shake of course!
Just throw slices of watermelon and chunks of ice cubes in a blender, add sugar until the desired sweetness is achieved and you have for yourself a thirst-quenching watermelon shake that's perfect for summer. Aaahh! 😀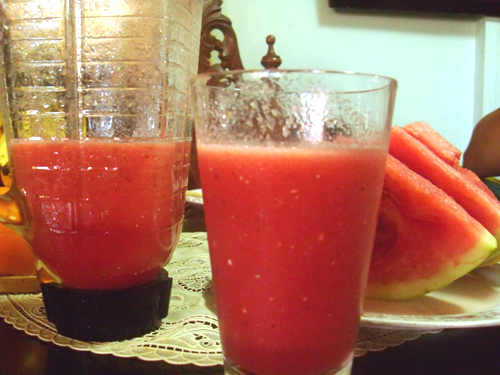 Love this post? Why not subscribe to us for free via e-mail. Receive the latest updates from Patay Gutom straight to your e-mail inbox. Don't forget to confirm your subscription by clicking the verification link that will be sent to your e-mail!
Tags: Beverages, fruits, pakwan, shakes, watermelon
This entry was posted by
Fitz Villafuerte
, who has written 13 posts as
fitz
, on Wednesday, April 8th, 2009 at 7:21 am and was filed under
Beverages
.