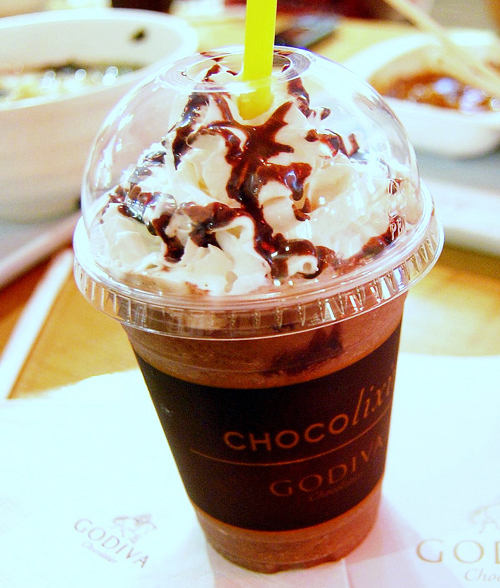 One of the highlights of my Hong Kong trip recently is my visit to the Godiva Chocolatier stores. Nope, Godiva is not the beauty product company we know of here in the Philippines. 😛 The Godiva Chocolate stores are, unfortunately, not found here in the Philippines but if you visit other cities (KL, Singapore, Hong Kong) do drop by to visit because it is not very often that you visit such a chocolate store of class like Godiva. 🙂
Summer's nearing in some countries that has four seasons and this chocolate drink is one way to cool off and chill. Since it's almost always summer here in the Philippines (except when there's a tropical storm) it would be nice if we have it here. But, summer or not… this drink is a sure winner to me! Even the cool winds atop the Victoria peak in Hong Kong would not stop me from taking a sip on this chiller.
I had my first sip of it when my friend bought one. The first sip was so foodgasmic that I said I really had to buy one of those… So I asked my friend how much she bought it for. When she said it costs HKD 42, I almost fainted! It's almost like PHP 260 if converted! Nevertheless, I was craving so much for this taste of heaven that when we stopped by in a Godiva store in Sogo, TST (near avenue of the stars), I had to buy myself one! I just kept on thinking that it's just like buying two Starbucks frappes… and it's not always that I visit a Godiva store… So there, I have justifies my indulgence! 😛
It has actually five flavors available: Dark Chocolate Raspberry, Dark Chocolate Decadence, Milk Chocolate Caramel, Milk Chocolate Decadence, White Chocolate Rasberry. I tried the Dark Chocolate Decadence myself and the only flavour I have tried for now. If you want to try this for the first time try the Dark Chocolate Decadence first, this is the classic/original one.
I bought some of these small-packaged chocolate for pasalubong to some people in my office. They are so expensive that I unfortunately could not buy one for myself anymore :(. One chocolate bar costs about HKD 39. That's about PHP 240!!! I'd be double dead if I buy for everyone!
Take a look at this chocolate collection they have… I'm pretty sure you'll drool over this blog 😛
Click on the picture to enlarge to its original size… Yes… drool some saliva love (comment) on this blog post yah!
Love this post? Why not subscribe to us for free via e-mail. Receive the latest updates from Patay Gutom straight to your e-mail inbox. Don't forget to confirm your subscription by clicking the verification link that will be sent to your e-mail!
Tags: dark chocolate chocolixir, Dark Chocolate Decadence, godiva chocolatier, godiva chocolixir
This entry was posted by
Hannah Rika Villasis
, who has written 2 posts as
flaircandy
, on Thursday, June 25th, 2009 at 4:16 am and was filed under
Beverages
.