What is the best dessert that can drive all the stress from your body and mind away?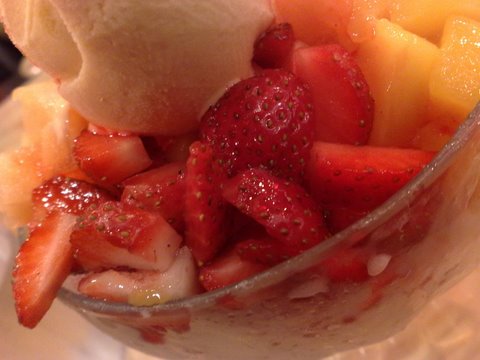 ICE CREAM!
After having dinner at Food Choices Glorietta, PG respondents Winston and Mica went straight to a branch of Iceberg in order to taste two of their best-selling ice creams: The one with Strawberry and Mango (sorry we forgot the exact name nyok) and Banana Split (not Roxanne, Angelica, Valerie and Cristine hehe )
Here are the cool shots:
Looking at the pictures makes me want to run and go back to Iceberg ASAP. I heard that Orange Ice Cream is also available there. Haven't tasted that yet 😀
Love this post? Why not subscribe to us for free via e-mail. Receive the latest updates from Patay Gutom straight to your e-mail inbox. Don't forget to confirm your subscription by clicking the verification link that will be sent to your e-mail!
This entry was posted by
Micaela Rodriguez
, who has written 13 posts as
micamyx
, on Thursday, January 22nd, 2009 at 7:26 pm and was filed under
Desserts
,
Ice Cream
.