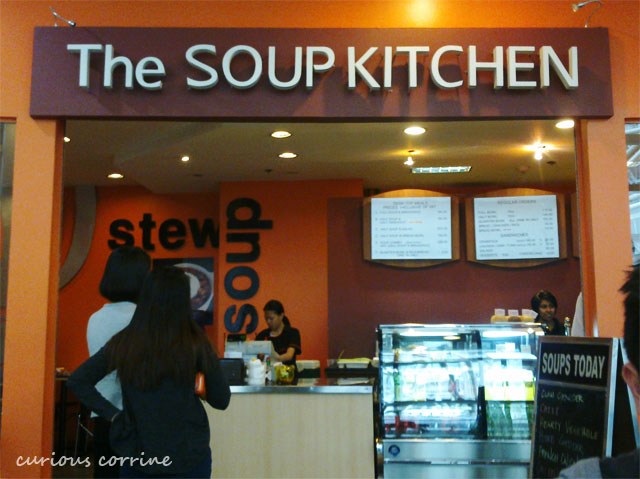 Ever since my officemate told me about The Soup Kitchen, I've been slowly dying to dig my tiny spoon into one of their concoctions. And since I've reached the limit of my carb quota for the month, I let her take me to The Soup Kitchen in RCBC.
I think their menu changes every day, hence, this cute blackboard stand just outside the restaurant. Remembering the chili salsa I had over at Mile Hi Diner a couple of days back, I picked the Chili soup. For no charge, you can ask (well, the server will ask you also) for nachos and cheese on top.
They have three bowl options; quarter, half and full bowl. Before you order, you can ask to taste each soup too so you won't feel bad about ordering a soup you don't really like.  Heh. 😀
The verdict? Two thumbs up! Although I had to put in tabasco sauce for an extra kick, I found the soup very flavorful and filling. Yes, filling! The Chili soup was packed with beans, onions, peppers, meat and whatnot. The boyfriend and his co-workers were dining at a nearby restaurant so he dropped by, starting eating my bowl and found it really good too.
I also ordered a grilled cheese sandwich to go with my soup. My officemate raved about this particular sandwich, you see. A grilled cheese sandwich is something you can easily do at home, I know, but this one's good too. At least there's a generous serving of cheese in between so I didn't feel like I wasted away my money.
While I love the Chili soup and the sandwich, I don't think I'll be eating here as frequently as I want mainly because it's a wee bit pricey as an everyday lunch meal. I typically refrain from spending more than 200 pesos (yes, more than 200 for the soup, sandwich and a calamansi juice ) for lunch–can't blame me, times are hard. 😀
Anyway, The Soup Kitchen teaches an important lesson: never underestimate a bowl of soup. 😀
Love this post? Why not subscribe to us for free via e-mail. Receive the latest updates from Patay Gutom straight to your e-mail inbox. Don't forget to confirm your subscription by clicking the verification link that will be sent to your e-mail!
Tags: Makati, soup, The Soup Kitchen, The Soup Kitchen RCBC
This entry was posted by
Hanna Corrine Salta
, who has written 63 posts as
corrine
, on Tuesday, January 17th, 2012 at 7:58 am and was filed under
Restaurant
.