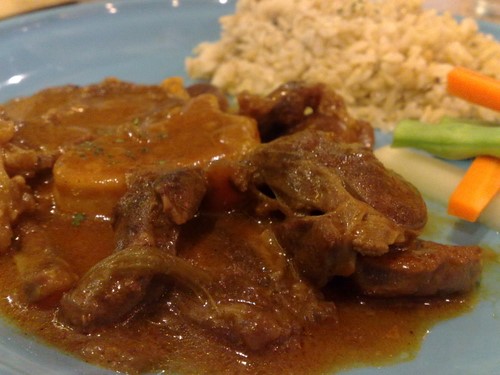 DAVAO CITY, MINDANAO, PHILIPPINES – Al Fresco is a relatively new Asian Fusion restaurant in Davao. As you know, "alfresco" means "in the fresh air" or "outdoors". That made me wonder why the place was named such. There are more tables inside than outside. Outside the view is that of a highway and cars passing by. Not exactly something I would consider 'fresh'. Good thing that indoors, the air from the air conditioner is fresh and cool. I ordered the Osso Buco. It's more like a glorified version of bulalo steak, but with more spices and tomato sauce. Al Fresco's version isn't so bad. In fact, I enjoyed it a lot. It's the most expensive item on the menu, costing P250. More on this at my food blog. 🙂
Love this post? Why not subscribe to us for free via e-mail. Receive the latest updates from Patay Gutom straight to your e-mail inbox. Don't forget to confirm your subscription by clicking the verification link that will be sent to your e-mail!
Tags: Asian Fusion, Davao
This entry was posted by
Andrew Dela Serna
, who has written 1 posts as
andrew_ds
, on Sunday, October 19th, 2008 at 3:03 pm and was filed under
Restaurant
.