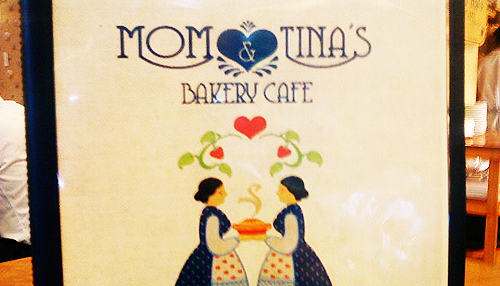 One thing to describe Mom & Tina's Bakery is Homey. They have country themed interiors which will really invite you to come in and put your feet up. Their interior design reminds me of the home interiors in Little Town in the Prairie.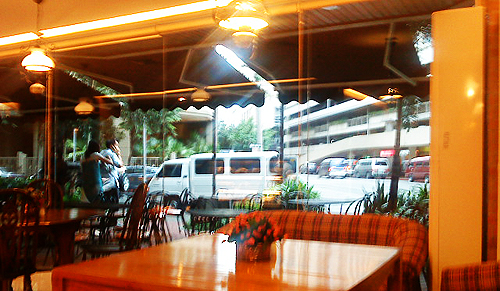 Mom and Tina's offers lot in their menu – soups and salads, pasta and rice meals, steaks and sandwiches, just to name a few. For desserts they have brownies, cupcakes, apple pies, cakes, cookies. They also have frozen desserts like the tortes, chocolate mousse, and mango trifle.

Here's what I ordered: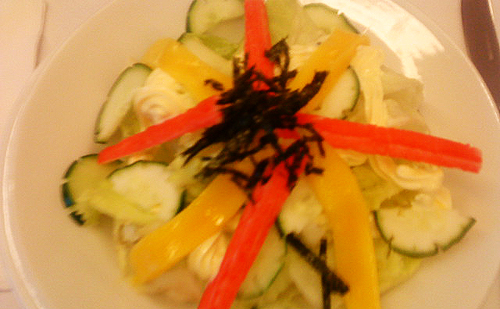 Mango Kani Salad- I ordered the half portion for PhP 105. It was okay but I was looking for the dressing and they didn't have any. All they had was the japanese mayonnaise as the dressing.

Chicken Alexander – It's a lot like Sheperd's pie except that this had chicken in it.Not that good. I wish I ordered another dish and spent my PhP165 on something else.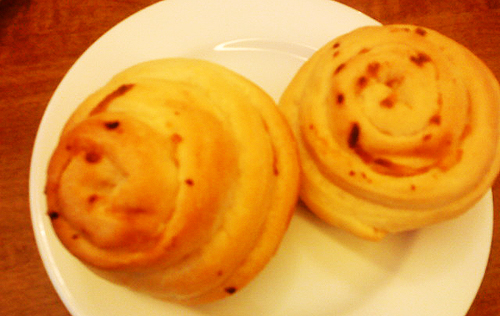 Their garlic bread roll was really,really, really good. This was their saving factor the reason that I will go back eventually and give them another chance because of their garlic bread roll.
Mom & Tina's Bakery Cafe Branches:
Makati Branch:
G/F Unit 14 Tropical Palm Plaza, Perea cor. Dela Rosa St., Legaspi Village
(02) 840-4299
Pasig Branch:
106 E. Rodgriguez Jr. Ave., Brgy. Ugong
(02) 914-0833
Love this post? Why not subscribe to us for free via e-mail. Receive the latest updates from Patay Gutom straight to your e-mail inbox. Don't forget to confirm your subscription by clicking the verification link that will be sent to your e-mail!
Tags: Mom And Tina's Bakery
This entry was posted by
Leira Pagaspas
, who has written 3 posts as
mushings
, on Tuesday, April 21st, 2009 at 10:06 am and was filed under
Restaurant
.