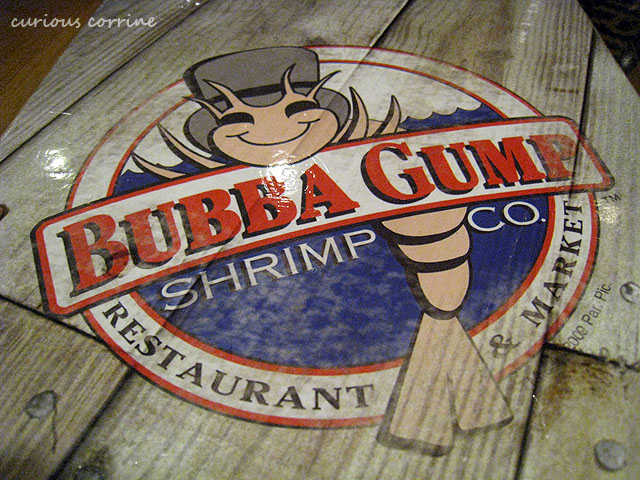 The last time I was at Bubba Gump it was waaaaay back in 2008 or 2009 so it was an absolute delight to learn that Christmas dinner with some of the boyfriend's friends will be there. A friend of the boyfriend made a reservation (yay!) since Bubba Gump is usually packed during dinner time. We arrived on time and was immediately ushered to our table.
The rest of the group had a tough time looking for a parking spot so we thought it best to have something to munch on while waiting for them. Besides this platter, we also had onion rings.
A lot has been added to the menu since I was last here (duh!) so I was a bit dumb-founded as to which dish to order. I love, love seafood so it was a no brainer to order seafood. I went with Bubba Gump's Baked Seafood Rice (Php615), which drew me in because of how it was described in the menu.
Baked seafood rice with shrimp, calamari, fish, spinach in parmesan cream sauce, topped with cheese.
Although it looked really appetizing on the menu and in words, it came super late. Everybody was already enjoying their meals, but mine arrived some 20 to 30 minutes later than everyone else's.
I could see the servers and the manager (I think it was the manager) panicky because I was in such a foul mood already. We just made jokes about it to alleviate the stress–sinasaing pa 'yung kanin, hinuhuli pa 'yung seafood, bumili pa ng pan.
It looked like a celebrity walked in when the manager (again, I think it was the manager) quickly approached our table with my dish. Hoozah!
After taking pictures of my food, which looked really good, I dug in and savored the first bite. It was bursting with flavor, but halfway to finishing my dish, I eventually realized how cheesy it really was. I got tired of it and gave up. Yes, I didn't finish my meal.

I do adore the generous serving of fish, calamari and shrimp.

As usual, I picked the boyfriend's dish. I knew what to look for: a spicy dish. I chose the Grilled Dory with Jambalaya (Php450), which I thought passed the boyfriend's palate.
Grilled cream Dory over a spice New Orlean's style Jambalaya with tender shrimp and andouille sausage.
If I had ordered this dish, I think I could finish this. I had a spoonful of this and loved it. Though the picture above doesn't justify it's relatively large portion, it's good enough for a big, burly man. It wasn't that spicy for the boyfriend though. I think I should ask for a plate of cayenne pepper to go with whatever it is he orders. 😀
We were surprised when the manager (again! haha!) approached our table with a huge slice of ice cream cake. He said it was on the house. Perhaps it was because of how late they served my dish? Well, who are we to pass on dessert?! Since we were a group of 12 (or 13?), we passed the plate around to be fair.

I love Bubba Gump! <3
Love this post? Why not subscribe to us for free via e-mail. Receive the latest updates from Patay Gutom straight to your e-mail inbox. Don't forget to confirm your subscription by clicking the verification link that will be sent to your e-mail!
Tags: Bubba Gump, Greenbelt 3, Makati
This entry was posted by
Hanna Corrine Salta
, who has written 63 posts as
corrine
, on Wednesday, December 21st, 2011 at 11:51 am and was filed under
Restaurant
.