I won't go into the details of this Friday's visit–who hasn't been to Friday's, anyway–so I'll go through the dishes we had. Whenever we visit Friday's, we make sure to order something we haven't tried before. A few weeks back, B and I got to visit the restaurant again–together with a bunch of his teammates.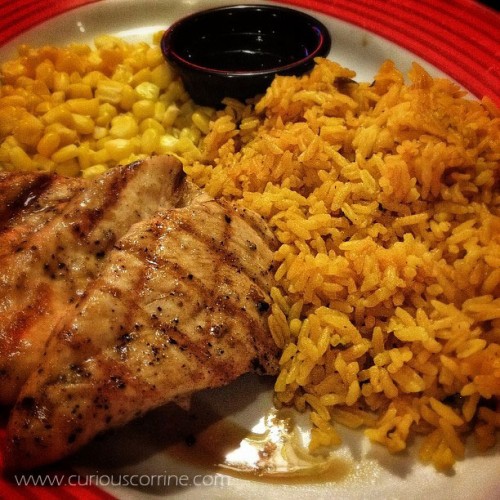 With glasses of bottomless margarita already on our tables, I knew I had to order something that was filling. Torn between burger sliders and a rice dish, I went with Jack Daniel's Chicken.
Throughout the years I've been trooping to  Friday's, this is the first time–I think–that I actually ate something with rice. Well, I was actually supposed to ditch the rice for mashed potato, but a friend ordered my dish for me. I forgot to tell them to get mashed potato with it, not rice. Oh well.
I was right to pick this dish because it was definitely filling. I  liked how the chicken was cooked–tender, juicy and moist. It wasn't as flavorful though, with the accompanying sauce/dip/condiment mostly responsible for its knockout taste.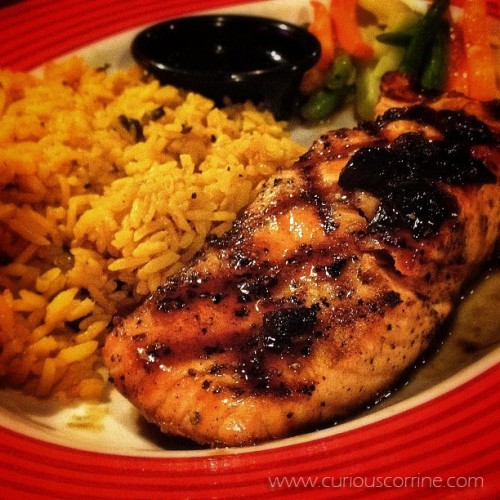 Here is the boyfriend's choice–Jack Daniel's Salmon. I could tell he wasn't very happy with the salmon because he took a piece of my chicken. 😀 He thought it was bland and unexciting. Salmon has a tendency to taste bland sometimes and I thought it was one of those occasions. 🙂
Nevertheless, he finished his plate. Including mine. 😀
Love this post? Why not subscribe to us for free via e-mail. Receive the latest updates from Patay Gutom straight to your e-mail inbox. Don't forget to confirm your subscription by clicking the verification link that will be sent to your e-mail!
Tags: Friday's
This entry was posted by
Hanna Corrine Salta
, who has written 63 posts as
corrine
, on Sunday, December 23rd, 2012 at 3:15 pm and was filed under
Restaurant
.