Last October 31, some bloggers who went to the Clear Black Night Halloween dance party had a major fail. Walking inside Mall Of Asia, they hoped to have some dessert at White Hat but discovered that it was already closed (blame it on Byahilo who said it was still open… hehe… peace Eric! 😀 ). Here's a shot of the "lost" bloggers:
Anyway, we were really looking for a place to hang out and talk so we decided to instead go to The Coffee Bean and Tea Leaf which was obviously, still open. As the bloggers settled in and ordered their drinks and desserts, I had my eye on one of my favorite cakes in CBTL – the Guiltless Chocolate Cake.

It is guiltless because it's sugar-free. Nevertheless, I still felt guilty when I ate it because it's so delicious that I didn't want to share it with anyone. 😛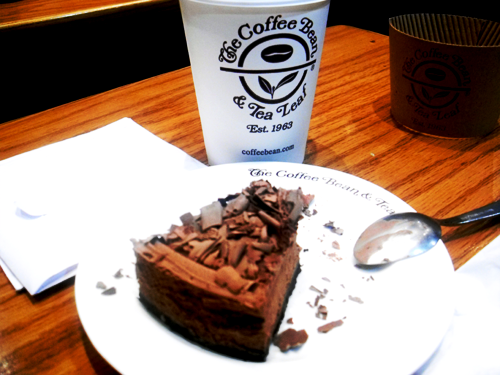 The Guiltless Chocolate Cake is topped with chocolate shavings with mousse in the middle and a brownie layer as base. The taste is similar to dark bittersweet chocolates. If you like those kind, then you'll surely love this.
Sorry if there's no other picture except the one above. The "patay gutom" in me managed only to take one shot.
In fact, I only remembered to take a photo while I was already enjoying a spoonful in my mouth. Yes, I'm guilty of breaking the number one rule of food bloggers. 😀
Oh well, so that's Coffee Bean and Tea Leaf's Guiltless Chocolate Cake. Try it when you're in CBTL.