The name MedChef doesn't seem to be as fitting a name for a company that churns out wonderfully-crafted baked goodies. I can't help myself from associating them with medicinal food or something just 'cause their name is a wee bit out of the box–for me, that is.
But then I did my research and found out that the two people behind MedChef came up with this name because they also came from two different backgrounds. One is a true-blue culinary person, Chef Hasset Go. The other is medical technologist Jayson Paul Carlos. You would think that it's an odd team, but it works. 🙂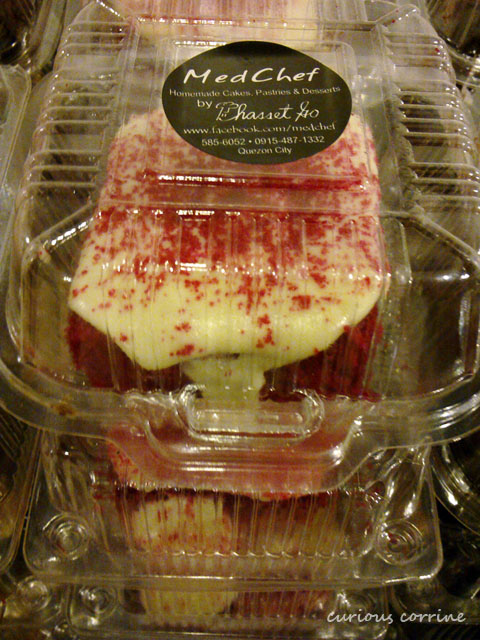 When I saw this stack of Red Velvet cakes sitting on a little table–yes, table–filled with an array of S'more and Moist Caramel chocolate cakes, brownies and other baked goodies over at The Galleon (again), I was instantly attracted to it.
Since I'm on an eternal diet, I wasn't sure if I should buy a cake or just walk away and grab something healthier. The former won, although I knew it would ruin my diet. 😀
This is the Red Velvet Cake and all its goodness for only Php60! Even though it was just a simple slice, I thought it looked really good. I think this is their best-selling cake because there were fewer Red Velvet cakes left on the table. 😀
I had planned to eat it after my lunch but I ended up eating it before lunch just because I couldn't stand closing the cover after I opened it to take pictures of it. 😀
I liked this cake a lot. I found it light, tasty and moist. I applaud them for not going overboard with the frosting. I think it's the ideal frosting and cake ratio. 🙂 True to how they describe themselves in their Facebook page, MedChef is indeed the sweetest treat one can have for every occasion. It's also a great reward for keeping your head cool amid the headache-inducing morning traffic jam. 🙂
I think they participate in bazaars such as Mercato and Distrito. You should definitely try their cakes (especially their Red Velvet Cake!!) when you spot them in a bazaar you visit. You won't be disappointed. 🙂