There's this famous goat meat restaurant in Sauyo, Novaliches QC, but it's far from where we live. Me, Natasha and Shelly craved for goat meat yesterday and we don't want to travel to QC due to trafficophobia—the fear of getting stuck in the Metro Manila traffic. If you love goat meat and you're craving for it and you live in Manila, then there's a near, recently opened food shop just along M.Naval street in Navotas called Kambingan ni Mang Ben. Kambingan ni Mang Ben is inspired by Kambingan ni Tsong, according to what I heard from someone who loves goat meat. Both cook goat meat the way that you're taste buds will crave for more.

Me and my friends tried 5 of their flagship dishes, and out of the 5, my favorites were the Papaitan and Kilawing Kambing. Their Sinampalukang Kambing is also a succulent and mouthwatering dish, but I love the first two that I mentioned above. Their Adobo dish is also a yummy, but their Kaldereta is just OK. Yep, just OK. I've tasted other Kalderatas somewhere in the Metro that is better than there version of Kaldereta.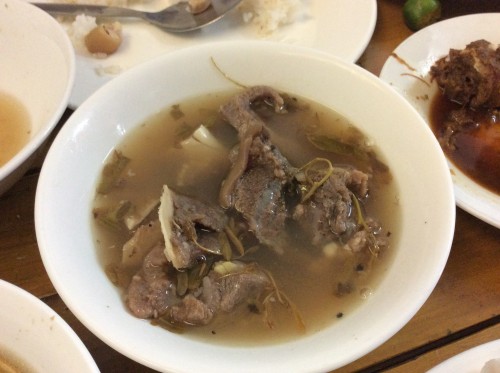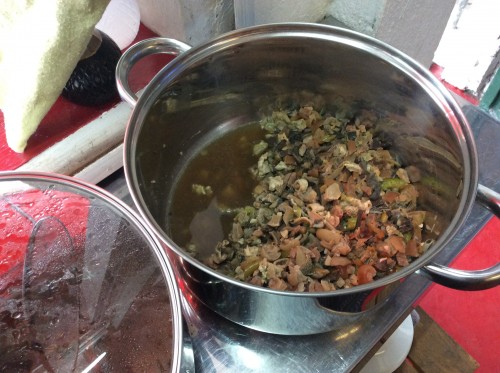 Anyway, if you're craving for goat meat and you live near Navotas, then you must try Kambingan ni Mang Ben! Each order costs 90 pesos and it's good for 2 persons. The serving is just enough for your tummy to get full.
Kambingan ni Mang Ben is located along M.Naval street near the corner of Alpha street in Navotas, Metro Manila.
They are open from 10:30 AM to 8:30 PM Monday to Saturday.I'm not sure if they are open during Sundays, but I think they are. You can visit their Google+ page here to know more.