I know Sinangag Express has been a favorite of many men. I guess it's their, hmm, highly-appealing name (sEx or S.E.X. or however you guys want to abbreviate it) that made it so popular. But even though I practically grew up hearing about this curious little chain, I've never had the chance to actually eat here–until my workmates and I decided to venture out and drive from Valero (where our office building is) to the Sinangag Express branch in Malugay Street.
Arriving at Sinangag Express, we were elated to see a sea of vacant tables. Somehow, I was expecting this place to be filled to the brim with lunch-goers. But realizing that they're a bit far from all the yuppie action in Ayala, most of the diners here either brought a car or were simply conveniently closer to Malugay Street.
In terms of the ambiance, I was immediately reminded of Chicken Deli in Bacolod. I thought they looked the same, though I like the rustic vibe at Chicken Deli more.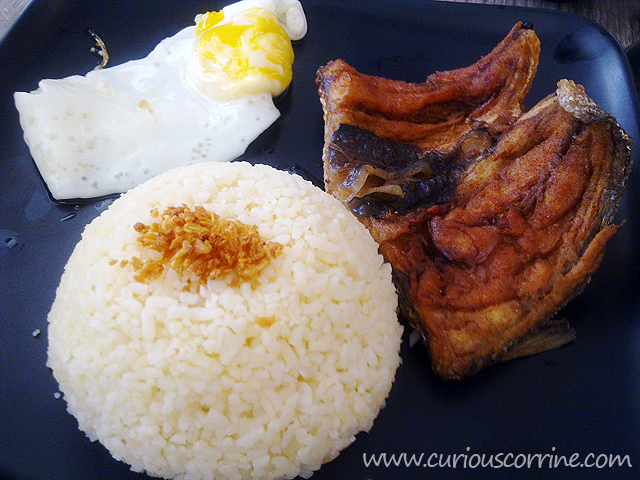 It's a welcome change from our usual (expensive) lunch fare and I love it! It doesn't hurt that they're comfortably Pinoy too. Although most people would quickly order Tapsilog, I almost always order Bangsilog when available and so that's what I had for lunch. 🙂 Service was fairly quick, which was good even though people were starting to fill up the area.
That piece of bangus may look small, but it was more than enough for me. Crispy and crunchy, I savored every mouthful since I don't regularly eat rice anymore. Meanwhile, looking so depressing is the egg. Apparently they don't do round eggs. Haha. I kid, I kid. 🙂
While I would usually gobble up any bowl of tokwa that is laid in front of me, this one had an unfamiliar aftertaste that turned me off. I don't know if it's the lack of flavor in the sauce or the tofu itself, but it does look good. Too bad it didn't pass my taste.
Half of the table ordered chilled taho too! It's not served like this, okay. I took this photo after my friend poured the syrup. 😛 According to my workmates who had this for dessert, it was pretty good. Well, I guess seeing them quickly finish their cups was a sign that they were having a delightful dessert. 😛