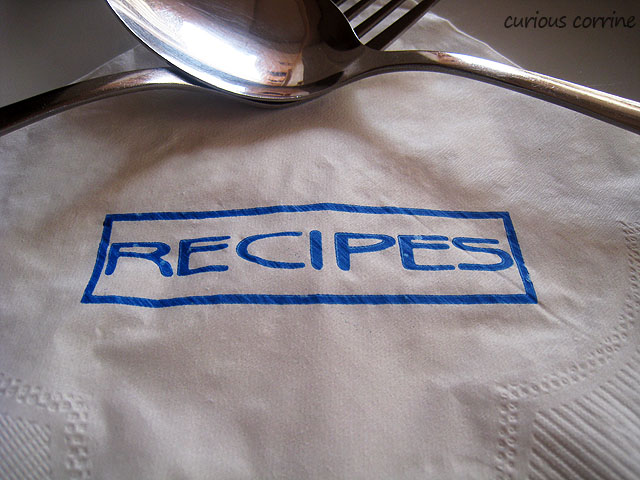 I met up with the boyfriend's family for Sunday lunch in Alabang Town Center earlier to celebrate his mom's birthday. We all arrived just in time for lunch–just in time for the chaotic lunch time at malls. Many were lined up at the restaurants we wanted to try so we had to settle for another. We were all a bit confused and frazzled as to where to go and which restaurant to try–until the boyfriend's sister remembered Recipes.
It was a hot and humid Sunday so we really wanted to get a seat inside the restaurant. Unfortunately, Recipes was packed that day too. The waiter whom we talked with however, was really accommodating. He said that if we were willing to dine al fresco, he'll pull out two electric fans just for us. And so, we willingly accepted his offer and dined outside. It wasn't that bad, actually. We (I) barely noticed the heat. 😀
This wonderful Gising Gising bowl tastes just like Bicol Express, sans the peppers. I really really liked this dish. For one, it was a bit spicy. Two, they used veggies–Baguio beans. Even though I can't remember I didn't feel bad eating this at all 'cause all those "greens" felt like I was eating healthy. For its price–170 pesos–at least three people can share this.  🙂
I was pleasantly surprised to see the Crispy Tilapia dish served like this. I thought the entire fish would be just fried to a certain crispiness, plopped on a plate and then served to us. But no, they cut it into strips and presented it on a bed of deboned tilapia (fried and crispy too!).  Although it looked really appetizing, it was bland and boring. Even the sauce they provided was snooze-worthy.
Here's our plate of Thai Spring Rolls. There wasn't anything spectacular about this plate. In fact, I could barely remember what were inside those rolls. It's something I could prepare at home just as long as I have the recipe (no pun intended). 😀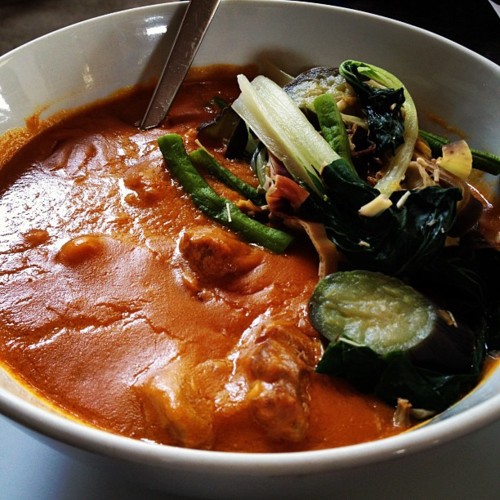 I loooove Kare Kare and I'm fairly happy with their version. There was a lot of meat and veggies in the bowl, plus I felt like they had the right amount of peanut butter in it. It was thick, yummy and very filling. 🙂
The name "General's Chicken" has such an appealing ring to it that I thought it would be amazingly hot and spicy, but no. It's just a really sauce-y chicken–boneless, by the way. I only ate one piece and didn't bother to grab another one.
I was surprised that they served Chicharon Bulaklak, and was doubly surprised to see the portions. We were a group of six at the time this was served and I think we had a piece each to be fair. Haha. So sad. 😀
I must say I was a bit disappointed with the food. Although I loved a couple of dishes, I thought they had a boring menu. It didn't look like they were making an effort to set their dishes apart from the classic Pinoy staples.
The ambiance was boring too. Maybe they were going for utter minimalism, but I personally thought it didn't work for a restaurant with this kind of menu. And so I leave you a photo of the exterior of their Alabang Town Center branch:
All photos taken by thy boyfriend, Paolo Ramos.