I first blogged about Chihuahua Mexican Grill over at Curious Corrine and I thought Patay Gutom deserved a part deux of that experience. 😀
A couple of weeks ago, we went to the spankin' new Chihuahua branch in Greenbelt 2. I'm not sure if they moved their business from their A. Venue location or this is a new branch though. Anyway, just like our first Chihuahua experience in A. Venue, we saw the same man hanging out there. I assume he's the owner or manager.

All the main items on their menu cost Php295–burritos, burrito bowl, salad, tacos. You just have to select your choice of meat–chicken, beef, pork. If you want steak though, you have to add Php50. They also have Mexican rice, a ridiculously grand Nacho Grande, Tortilla Soup and more.
Last time, I ordered a Burrito Bowl and that proved to be too much for a girl like me to tackle.  And so I settled for a more woman-friendly (in size) Chicken Tacos. I must admit that the dish is not  as colorful as the burritos but they're really tasty! Each plate comes with three soft-shelled tacos and I love how they really don't economize the food. 🙂
The boyfriend had to fill his post-basketball game tummy needs so he ordered Steak Burrito Bowl. I swear this is the perfect proportion for true burrito lovers. I can eat this for lunch and I'll be good for the rest of the afternoon. I think I can even skip dinner with this amazing spread. Also, you may want to have yours wrapped instead of this deconstructed burrito to get the real burrito experience. 🙂
B is particularly fond of spicy food so it's almost like he's "home" whenever he sees all the spices Chihuahua has to offer. There's actually one corner dedicated to this. You can hoard–well, please don't–the spices you want to go with your meal.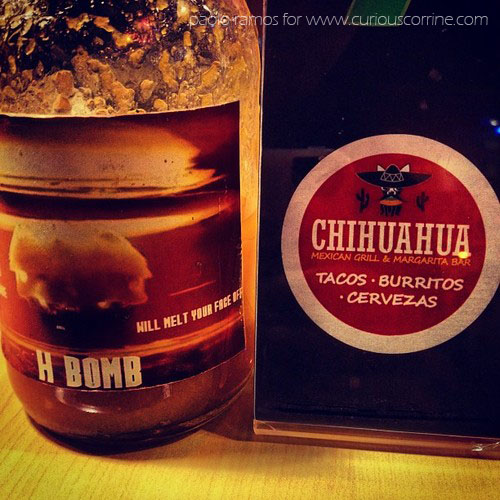 The H Bomb was particularly destructive though. The boyfriend underestimated it and was left with a slightly blistered tongue. 😀
Here's something to get you interested in this new love-of-my-Mexican-loving-appetite: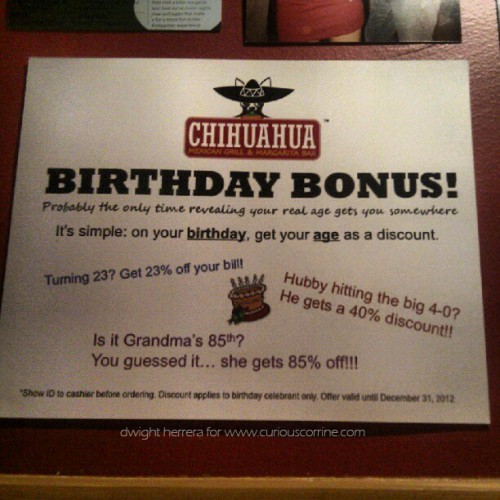 I  hope that by now, I've convinced every reader to troop to Greenbelt 2 (Chihuahua is in the same row as Conti's and Tender Bob's) and get their burrito or taco fix. :p