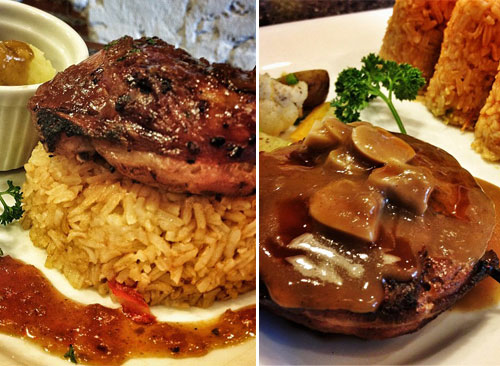 Almon Marina is far from being pricey, but for some reason, it has always intimated me. Yes, I don't understand how a simple sandwich bar and deli could do that to me, but yeah, that's that. Anyway, of the few times I've been to Almon Marina, I usually stick to pasta.
Out with the boyfriend one night, I veered away from this normality and dived into their plates of Fillet Mignon and Roast Beef.
I forgot how much the Filet Mignon costs, but I remember thinking that it was pretty reasonable. While this isn't the first time I've seen rice presented in a way other than one big blob on a plate, I'm not sure how I feel about those four mini rice towers. It's cute but definitely odd.
The fillet is okay for its price. It was tender and flavorful enough to fill my appetite. Of course, we weren't expecting each bite to explode in our mouths like fireworks. If we were looking for such, we would have gone to Highlands or some legit steak house that serves the "real deal." On another note, it's quite notable that you can ask how you want the fillet cooked.
Honestly, there's nothing special about Almon Marina's Roast Chicken. It's actually a lot like the usual roasted chicken we get at fast food. I like how it's perfectly brown and minutely "burnt" though. It was also cooked through and through, but just lacked some "oomph."
Set on top of pilaf rice, I would say the chicken needs a tad more personality to really set itself apart. Presentation is such a darling though!