On the way home to Manila after a whole week of stressful work in Batangas, I coerced some colleagues to pass by the famous Bulalo place, Rose and Grace Restaurant: The Home of the Famous Batangas Bulalo for a quick dinner, before forging ahead to the potentially unendurable SLEX traffic. The restaurant is just off the entrance to STAR Tollway – no more than 10 minutes away – along Maharlika Hi-way, Sto. Tomas, Batangas.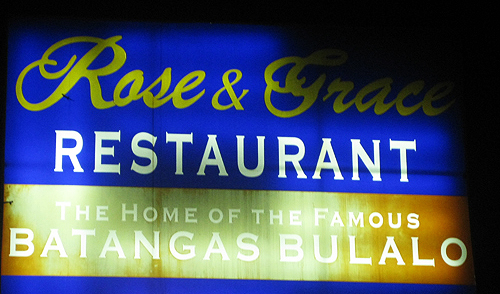 "Rose and Grace" is a "turo-turo" type restaurant, not too fancy, not too expensive, but there is a lot of variety in the dishes they offer – from meaty dishes like lechon kawali, bulalo and crispy pata, to seafood like squid in oyster sauce, grilled fish, crispy shrimp and the like.
Must try of course, is the famous Special Batangas Bulalo (P350) – a hearty bowl of warm bulalo soup complete vegetables, and a massive portion of beef and bone, just the way bulalo should be. And don't forget the "utak" or bone marrow – for the ultimate cholesterol high. Haha! Awesome. It is recommended to share – a bowl is good for 2 to 3 people. And for those who love to sip hot bulalo "sabaw", it's refillable!
With our bulalo, we ordered some Squid in oyster sauce (P220) and some very crunchy Lechon Kawali (P150). Their rice portions are also more than sufficient, and so we found ourselves with stomachs full and happy after dinner.

Before continuing on our jouney home, we took advantage of the Pasalubong section in Rose and Grace and got some special polvoron, spicy dilis (anchovy) and peanuts with garlic. A quick homage to the statue of the Virgin Mary by the door on the way out, and we were off.
As it turned out, SLEX was heavy with traffic – the trip took longer than expected and so the stopover at Rose at Grace became so much more worth our while. I'm definitely going back again!