7,107 Islands. 7,107 Recipes. Adobo Connects Us All. 
That's Adobo Connection's straightforward–but pretty ingenious–slogan. It's an easy sell, which is why it didn't take a whole lot of convincing for us to try this new (for us, at least) restaurant. I also have to give it to the two Harvard Business School graduates, who established the restaurant in 2010, for such an interesting logo.  I really love the little bahay kubo on top of the "o." It's very Pinoy. 😀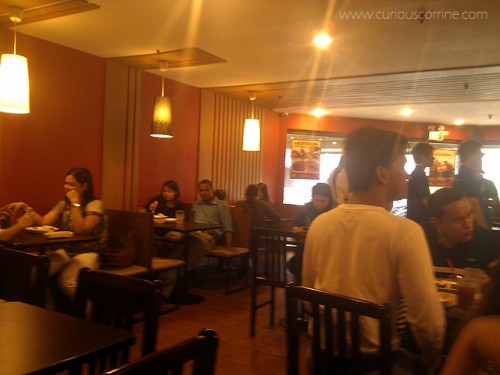 Well aware of how restaurants in Makati can easily fill up as soon as its lunchtime, we went to Adobo Connection at around 11:30, to save us from all the hassle of table hunting. To our delight, the place was virtually empty. But as soon as we fell in line at the counter to order our food, streams of Makati yuppies walked in the restaurant like there was an SM sale or something. Hehe.
It was almost a shame if I ordered a meal that wasn't adobo so I went with something that sounded yummy–Kuya's Fried Mixed Adobo. Lucky for me, it tasted as good as it sounded! The meat was really tender, falling off the bone with such ease. It was also really flavorful through and through. The chicken skin had the pan-seared finish that I like a lot. B stole part of my fried adobo because it was that good.
As you can see, I upgraded from plain to garlic rice. I'm not sure though if you can still avail of the unlimited rice once you upgrade to garlic rice. Better double check!
Trying something non-adobo in an adobo place–odd–was the boyfriend who just had to hold the plate up to show the Adobo Connection logo and slogan printed on it. Branding at its best. You know they want you to remember their restaurant when they inscribe their name on a plate, no? 😛
Now, on to the Beef Kare-Kare. By my standard (I have a pretty strict one for Kare-Kare), it was good but definitely not great. There was enough veggies and meat to fill up a grown man, plus the sauce was real thick and nutty. The accompanying bagoong however, tasted pretty darn good with their Kare-Kare.
You see, some restaurants completely miss the connection between Kare-Kare and bagoong, often churning out below par bagoong that does nothing to make the collective experience of it all to be the least bit enjoyable.
Here's what the others tried for the day. I was only able to sample the Gising-Gising and I must admit that it wasn't too exciting. As for the Chicken Adobo Sa Gata, which sounded (still does) really weird to me, my friend says it was okay. He was wanting more of the coconut milk flavor though. The Modern Nutty Pork Adobo, on the other hand, received good feedback as well. The crushed cashew nuts sprinkled on top added texture, an element that isn't common in Adobo recipes.
There's a lot to love about this cozy little casual restaurant. For one, they're seriously affordable. Two, service is fast. Three, food is decidedly good. If there's one flaw to pick, I'd say they should expand their Adobo selection. Aren't they saying that there are 7,107 Adobo recipes in the archipelago?