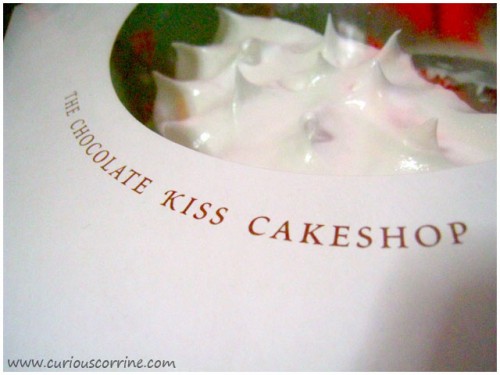 I'm pretty sure you know by now that I have a love-hate relationship with sweets. Truthfully, I would love to sample every cake there is on earth. But when I am reminded of how much effort it takes to trim down excess weight, I go into this deep rut and wish never to see a cake again. Obviously, this is one of my good days as I'm blogging about an insanely good–and already popular–cake that has been making resounding waves on and off the Web.

The name The Chocolate Kiss Cafe is already too irresistible to pass up on. Being a south peep, restaurants up north (or east) are completely alien to me, which is why I've never had the chance to try this cafe. My best friend is actually a fan of this place, which is why even before I got to try one of their cakes, their name has already been stamped in my mind for the longest time. 🙂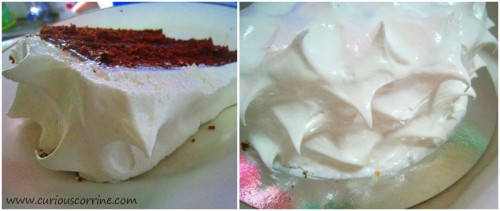 A couple of days ago, my sister ordered a 9-inch Devil's Food Cake from The Chocolate Kiss Cafe as a birthday cake for my dad. We had it delivered to his office as a surprise, but of course, he had to bring it home to his girls so we could sample it. (This explains why I wasn't able to take a picture of the entire cake–my sister ate two slices before I knew my dad had already arrived home). 😀
True to its name, the cake is a sin with every bite. It's a chocolate cake with chocolate fudge inside and an insane–not to mention thick–layer of marshmallow frosting. The latter's the true winner of this heaven of a cake because it's truly a visual and gastronomic delight. I cut a thicker-than-usual slice that proved wrong since I got tired of the frosting about two spoonfuls away from clearing up my plate.
Would I order this again? Yes. Would I share it? Probably not. Oops, that's the "devil" in my head speaking. Yes, I'll happily share. 😀
Love this post? Why not subscribe to us for free via e-mail. Receive the latest updates from Patay Gutom straight to your e-mail inbox. Don't forget to confirm your subscription by clicking the verification link that will be sent to your e-mail!
Tags: Cakes, Desserts, The Chocolate Kiss Cafe
This entry was posted by
Hanna Corrine Salta
, who has written 63 posts as
corrine
, on Monday, July 9th, 2012 at 10:01 pm and was filed under
Desserts
,
Pastries
.