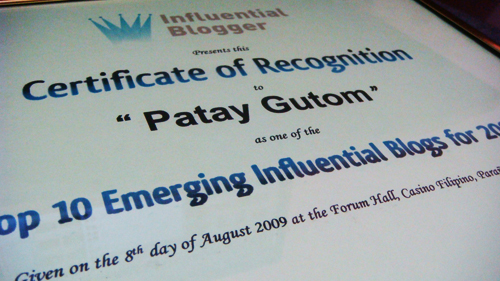 The Patay Gutom team would like to thank everyone who nominated us for the Top 10 Emerging Influential Blogs for 2009! You rock! We also rock! You rule! We also rule! You eat! We also eat! You ____ ! We also _____! Whatever you want to do, just do it! Because whatever we want to do, we'll just do it!
Our tears are overflowing now… we really can't contain it. We are overjoyed and we are so grateful because we didn't expect that a lot loves us and a lot cares about us.
For we were dead hungry and you gave us something to eat, we were thirsty and you gave us something to drink, we needed clothes and you clothed us, we were sick and you looked after us, we were in prison and you came to visit us, we were strangers, but yet you didn't hesitate to nominate us and believed that we are truly emerging and influential.
Again, we would like to give our greatest gratitude to you, to everyone of you. From the fowl of the air, and the fish of the sea, and whatever passes through the paths of the seas. Thank you… thank you… thank you…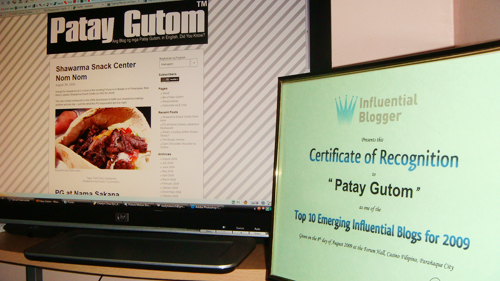 Here are some EIB 2009 post-event blog posts:
And some photos of the 2009 EIB:
For more details, visit the official post page of the Top 10 Emerging Influential Blogs for 2009!
Love this post? Why not subscribe to us for free via e-mail. Receive the latest updates from Patay Gutom straight to your e-mail inbox. Don't forget to confirm your subscription by clicking the verification link that will be sent to your e-mail!
Tags: Emerging Bloggers, Influential Bloggers, Philippine Bloggers, Top 10
This entry was posted by
Jehzeel Laurente
, who has written 25 posts as
jehzlau
, on Monday, August 10th, 2009 at 11:49 pm and was filed under
Events
.