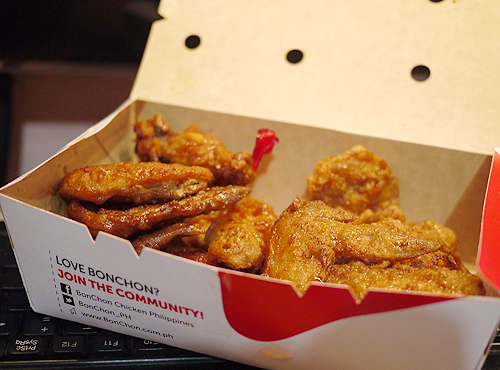 The boyfriend told me that BonChon in the University of Santo Thomas is now open. I didn't believe him at first because I haven't read about it online, nobody blogged about it yet, and BonChon UST is not even in BonChon.com (the official website of BonChon Chicken). But he insisted that it's already open because he saw it with his own eyes!

It's also a great thing if there's a BonChon branch in UST so that we'll never go to Robinsons Place Manila whenever we are craving for the crispy goodness of BonChon Chicken. Anyway, BonChon Davao is also not in the official list of BonChon branches, but it's already open, as blogged by the Traveling Nomad and other Davao-based bloggers.
Because I'm a certified Patay Gutom and to prove my boyfriend's claim that BonChon UST is really really really open, we went to UST [just a while ago] and I finally believed the boyfriend that it's really open! It's overcrowded with UST nursing/med students, random Thomasians, and random people who loves BonChon. The place is quite small (about 8 or less tables inside) compared to other BonChon branches that I've been to, but it's clean and comfy. I think it just opened this week or last week. I didn't know that exact date, but who cares anyway as long as it's already open.
And because it's already open, we went inside and ordered our favorite medium Chicken Wing (that's 12 pcs), half soy and half spicy to go. We waited for around 15 minutes and we got our order. I'm soooo happy because finally, a BonChon branch near me is now open. And whenever I want to eat BonChon, I can simply walk for 2 minutes and satisfy my cravings.
If you're here reading this post because you want proof that BonChon UST is now open, then here's the proof.

They don't have a phone number yet and I think they will never have one as it's only a pick-up and takeout only branch.
Whenever you're craving for BonChon in you're somewhere in Manila near UST, you know where to go! It's on the 2nd floor, multi-deck car park inside UST.
BonChon UST Open Hours: 10:00 AM to 11:00 PM, Monday to Sunday (7 days a week).
TRIVIA: BonChon now has more branches in the Philippines compared to the US and Korea.
PS: Ooops. I just checked Twitter and a lot already tweeted about it. BonChon UST just opened last August 15, 2012 according to BonChon Philippines Twitter account. I thought I was the first one to write about this online, but it's already tweeted a lot in Twitter. Hahaha! I should have checked Twitter first before checking Google. Arrghh.
Love this post? Why not subscribe to us for free via e-mail. Receive the latest updates from Patay Gutom straight to your e-mail inbox. Don't forget to confirm your subscription by clicking the verification link that will be sent to your e-mail!
Tags: BonChon, Chicken, Fried Chicken, Manila
This entry was posted by
Leslie Anne Go
, who has written 8 posts as
leslie
, on Saturday, August 18th, 2012 at 9:33 pm and was filed under
Fast Food
.